by Pam Martens and Russ Martens, Wall Street on Parade: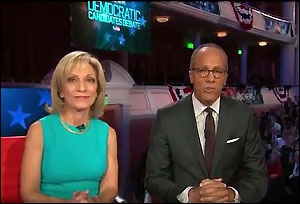 Leave it to NBC to remind us that corporate media is tone deaf when it comes to facing up to outrageous conflicts of interest. The final presidential debate before the Iowa caucuses and New Hampshire primary aired last night on NBC and was co-moderated by Lester Holt and Andrea Mitchell. Given the public focus on Hillary Clinton's financial ties to Wall Street, it was clear that hard-hitting policy questions on reforming Wall Street would need to be asked during the debate.
So why put Andrea Mitchell on that stage instead of an objective media moderator? Mitchell is married to Alan Greenspan, the man whose 18-year stint as Fed Chairman included a two-term appointment by Bill Clinton's White House. Greenspan was correctly dubbed by Time Magazine as "25 People to Blame for the Financial Crisis"; was the man who played a key role together with the Clinton administration's Wall Street sycophants Robert Rubin and Larry Summers in repealing the Glass-Steagall Act that ushered in the devastating deregulation of Wall Street and subsequent collapse in 2008; and the man who attempted to lend credence to the nutty "selfishness is good/government regulation is the enemy" theories of Ayn Rand, Greenspan's long-time economic mentor.
This is not the first time Mitchell has been called out for a conflicted media role. In 2008, Megan Garber, writing for the Columbia Journalism Review, had this to say of Mitchell's coverage of the financial crisis:
"You wouldn't want Laura Bush asking you about the federal government's reaction to Katrina. You wouldn't Maria Malan interviewing you about apartheid. And so on. Those interviews would be awkward, but, more to the point, they would be unproductive. They'd yield, at most, partial truths. It'd be naive to think that an interview with Mitchell would be any different.
"In reporting on the financial crisis, journalists need to help viewers and readers and listeners fully understand what we're facing right now…'What went wrong?' should be a standard question Mitchell and other journalists are asking right now. When one potential answer to that question is 'Alan Greenspan,' there's a conflict. A big one."
Garber went on to recommend in the article that Andrea Mitchell "should be a little less everywhere while the financial crisis is at its height. Maybe MSNBC should consider whether its viewers are served by an anchor and reporter who is, in so many ways, so close to the story she's covering."
Read More @ Wallstreetonparade.com
Help us spread the ANTIDOTE to corporate propaganda.

Please follow SGT Report on Twitter & help share the message.