Auto debt getting riskier with extended terms and chasing borrowers with lower credit scores.
from MyBudget360.com: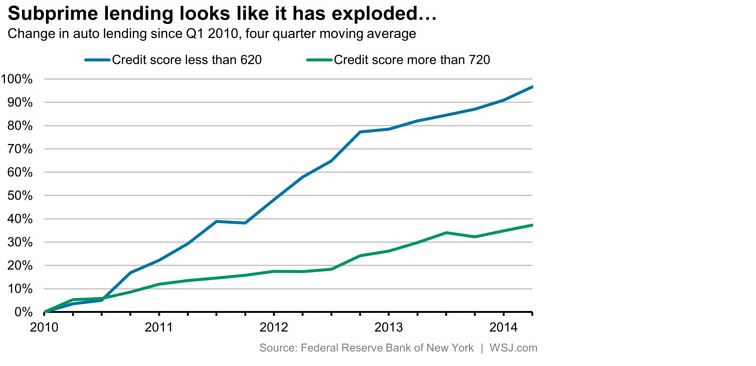 The word "subprime" was synonymous with the toxic loans that were made during the credit bubble.  Some tend to think that those days are long gone but we simply have shifted the form in which toxic debt is filtered into the system.  Instead of making no-doc no-income loans on houses, we are now offering no-income loans to college students and also, a large number of subprime loans to purchase cars.  This is problematic for a variety of reasons.  First, Millennials and younger Americans are carrying the disproportionate amount of debt in college loans and auto loans.  College debt is causing major problems including forcing many young people to live at home with their parents well into older adulthood.  At least with college if done correctly, you are getting a degree that should boost your earnings power.  Of course you need to be weary of how much debt you take on and the quality of the institution you attend.  But with auto loans, you are basically financing a purchase that is losing value the moment you take it off the lot.  We now have over $1 trillion in auto debt outstanding and a large portion of this growth is coming because of subprime loans to riskier borrowers.
Subprime auto loans fuel growth in auto sales
The amount of loans being originated by the auto industry is reaching near peak levels.  Many younger Americans unable to purchase homes are deciding to live in the moment and are going into big debt to finance cars.  A large portion of growth is coming from subprime borrowers and many are going into extremely long payment terms.  There are now 72 month auto loans floating in the market as common practice:
"(Bloomberg) The average loan term for new vehicles reached a record 67 months in the first quarter, with the figure for subprime new-car debt approaching 72 months, according to Experian Automotive data. For used cars, the average reached a record of 62 months, with the length for the least reliable consumers exceeding 56 months, the data show."
In the first quarter of this year, nearly 20 percent of all auto loans originated were in the form of subprime borrowers:
Help us spread the ANTIDOTE to corporate propaganda.

Please follow SGT Report on Twitter & help share the message.