For the first time in over 50 years low-income and high-income Americans outnumber the middle class.
from MyBudget360.com: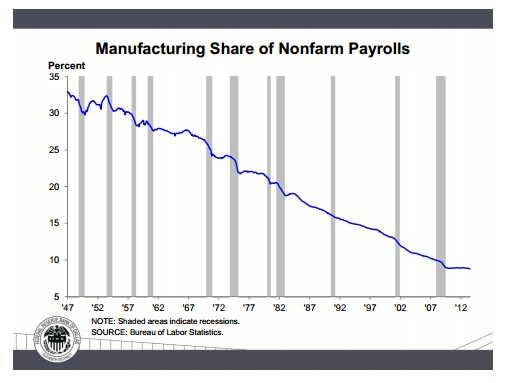 It was only a matter of time but we can now officially say that the middle class in America has reached minority status designation.  Recent figures show that there are more low-income and high-income Americans versus those in the middle class.  Most of the growth has been fueled by the trend in adding low wage jobs.  At the other end you have a small pool of Americans that are controlling a larger piece of the economic pie.  It used to be the case that Americans for the most part were proud about our robust middle class.  Now there is this temporarily embarrassed millionaire attitude flooding the nation all the while the system becomes more of a corporatocracy.  Half of Congress is made up of millionaires so don't expect them to have any idea what is happening in the lives of paycheck to paycheck Americans.  Does losing the middle class matter?
Middle class minority
I knew that it was only a matter of time before the middle class was pushed into minority status.  What is more shocking of course is the speed in which our economy is becoming split.  The biggest growth has occurred in the low income category.  This is why even with the stock market near all-time highs and real estate bubbling over yet again, we have 45 million Americans on food stamps.  The number is near an all-time high because the middle class has shrunk.
There seems to be a massive disconnect between what is presented in the media and what people are actually living.  Take a look at the shrinking middle class chart: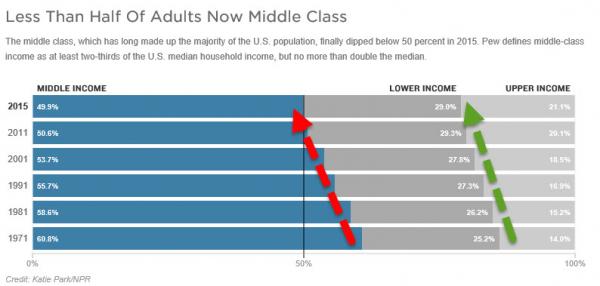 In 1971 the vast majority of working Americans clearly fell in the middle class.  Slowly but surely the pool started dwindling as we added more lower income Americans but also, created a small wealthy minority that controlled virtually all real assets in the country.  In fact, one of the stepping stones to middle class living, home ownership has been slowly trampled on by speculative banks and large money investors.
Help us spread the ANTIDOTE to corporate propaganda.

Please follow SGT Report on Twitter & help share the message.