by David Stockman, Contra Corner: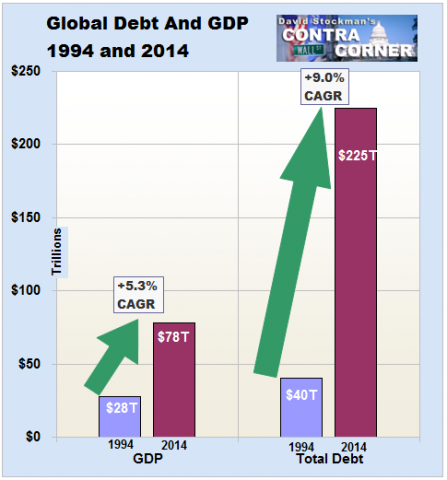 The giant credit fueled boom of the last 20 years has deformed the global economy in ways that are both visible and less visible. As to the former, it only needs be pointed out that an economy based on actual savings from real production and income and a modicum of financial market discipline would not build 65 million empty apartment units based on the theory that their price will rise forever as long as they remain unoccupied!
That's the Red Ponzi at work in China and its replicated all across the land in similar wasteful investments in unused or under-used shopping malls, factories, coal mines, airports, highways, bridges and much, much more.
But the point here is that China is not some kind of one-off aberration. In fact, the less visible aspects of the credit ponzi exist throughout the global economy and they are becoming more visible by the day as the Great Deflation gathers force.
As we have regularly insisted, there is nothing in previous financial history like the $185 trillion of worldwide credit expansion over the last two decades. When this central bank fueled credit bubble finally reached its apogee in the past year or so, global credit had expanded by nearly 4X the gain in worldwide GDP.
Moreover, no small part of the latter was simply the pass-through into the Keynesian-style GDP accounting ledgers of fixed asset investment (spending) that is destined to become a write-off or public sector white elephant (wealth destruction) in the years ahead.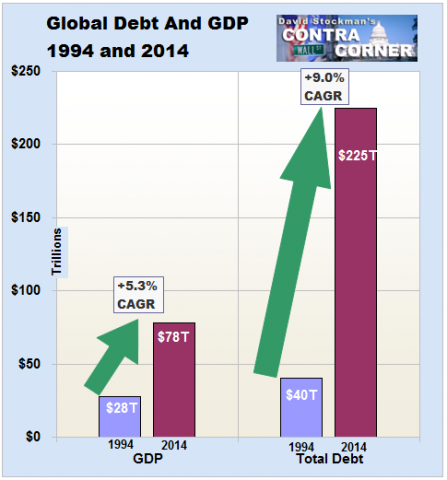 The credit bubble, in turn, led to booming demand for commodities and CapEx. And in these unsustainable eruptions layers and layers of distortion and inefficiency cascaded into the world economy and financial system.
One of these was an explosion of CapEx in the oil patch and the mining sector in response to massive price and margin gains and the resulting windfall rents on existing assets. In the case of upstream oil and gas, for example, worldwide investment grew from $250 billion to $700 billion in less than a decade.
Needless to say, there is now so much excess supply and capacity on the world market that oil has plunged into a collapse that is likely to last for years, as old investment come on-stream while world demand falters in the face of the gathering global recession. Already, investment is estimated to have dropped by 20% in 2015, and that is just the beginning.
This unfolding collapse of oil and gas investments, of course, will ricochet through the capital goods and heavy construction sectors with gale force. Eventually, annual investment may decline by $250 to $400 billion before balance is restored, meaning that what were windfall profits and surging wages and bonuses in these sectors just a year or two back will evaporate in the years ahead.
Contrary to the circular logic of our Keynesian central planners and Wall Street stock peddlers, the pending massive loss of value added capital spending in the energy patch is not a part of some grand reallocation game; it won't be made up by households—-which are already at peak debt—— borrowing even more in order to go to the restaurant or yoga studio.
Instead, as the credit bubble begins to shrink it means that profits, incomes, balance sheets and credit-worthiness are all shrinking, too. So is the related GDP.
The same kind of malinvestment occurred in the mining sectors where Australia's boom in iron ore, coal, bauxite and other industrial materials provides a good proxy.  As shown below, CapEx in mining grew by nearly 6X in less than a decade.
But given the massive oversupply and plunging prices and margins in these commodities, and the overhang of still more capacity in the pipeline coming to completion, it is fair to say that investment in the global mining industry is sinking into a depression that will last the better part of a decade.
Read More @ Davidstockmanscontracorner.com.com
Help us spread the ANTIDOTE to corporate propaganda.

Please follow SGT Report on Twitter & help share the message.