by Pam Martens and Russ Martens, Wall Street on Parade: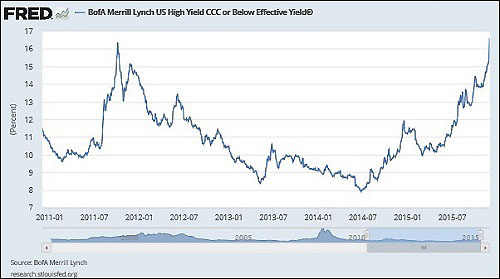 There are three major red flags waving in the wind over the U.S. junk bond market. First, the market is now approximately $1.8 trillion, about double the amount of junk bonds outstanding at the height of the financial crisis in 2008. Also, yields have skyrocketed, showing a growing aversion to risk by investors. As the above chart indicates, the lowest rated junk bonds (also called "high yield") which have a CCC or lower rating, have seen their yields double from 8 percent to 16 percent since July of last year. And, finally, downgrades to ratings are swamping the number of upgrades, a telling sign of an overall deteriorating market. According to the ratings agency, Moody's, the ratio of upgrades to downgrades is at the worst level since the financial crash in 2008-2009.
What have junk bond investors gotten in return for taking on all of this high risk this year? They've gotten a negative return of 2.20 percent – also the worst since the 2008 crisis.
Declining bond credit quality is no longer just centered in oil and shale companies that are bearing the brunt of collapsed oil prices. Lower rated credits issued by U.S. retail, media and pharmaceutical companies are also now experiencing declining bond prices and rising yields (bond prices move inversely to yield). According to Standard and Poor's, on a global basis, companies have defaulted on $95 billion worth of debt this year, making it the largest year of defaults since the height of the credit crisis in 2009.
Equally problematic, a large part of the junk bond issuance did not go toward strengthening corporate balance sheets to help companies weather the next crisis. As financial blogger Wolf Richter reported on November 16:
"Not that these junk bonds have been issued over the past few years to fund productive activities that would generate cash flows with which to service the bonds. Far from it. According to LCD [Leveraged Commentary and Data] in 2015 so far, the proceeds from 46% of the newly issued junk bonds were used to refinance maturing bonds, paying early investors with money raised from new investors.
"Another 30% of junk bond issuance was used for M&A [mergers and acquisitions]. Valeant is a prime example. It's teetering under $38 billion in debt and has a tangible net worth of a negative $33 billion. If it craters, the bloodletting among creditors will be brutal.
Read More @ Wallstreetonparade.com
Help us spread the ANTIDOTE to corporate propaganda.

Please follow SGT Report on Twitter & help share the message.