[Ed. Note: As Brother Nathanael noted in his commentary tonight which we posted (below), Putin is leveling absolutely devastating truth bombs against the US government, New World Order and international banking cabal, the latter of which has kept the world mired in endless wars for centuries. ~SGT]
from Zero Hedge: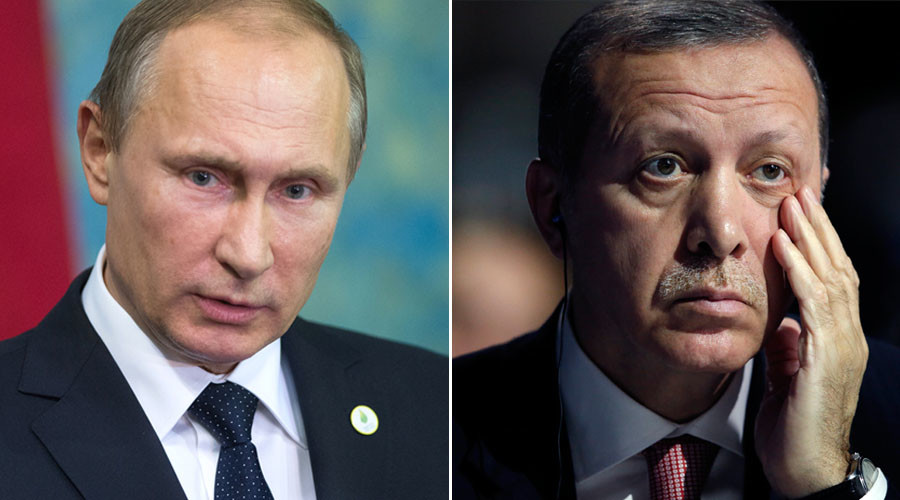 "At the moment we have received additional information confirming that that oil from the deposits controlled by Islamic State militants enters Turkish territory on industrial scale."
"I've shown photos taken from space and from aircraft which clearly demonstrate the scale of the illegal trade in oil and petroleum products," Vladimir Putin told reporters earlier this month on the sidelines of the G-20 summit in Antalya.
Putin was of course referencing Islamic State's illicit and highly lucrative oil trade, the ins and outs of which we've documented extensively over the past two weeks:
Turkey's move to shoot down a Russian Su-24 warplane near the Syrian border afforded the Russian President all the motivation and PR cover he needed to expose Ankara's alleged role in the trafficking of illegal crude from Iraq and Syria and in the aftermath of last Tuesday's "incident," Putin lambasted Erdogan. "Oil from Islamic State is being shipped to Turkey," Putin said while in Jordan for a meeting with King Abdullah. In case that wasn't clear enough, Putin added this: "Islamic State gets cash by selling oil to Turkey."
To be sure, it's impossible to track the path ISIS oil takes from extraction to market with any degree of precision. That said, it seems that Islamic State takes advantage of the same network of smugglers, traders, and shipping companies that the KRG uses to transport Kurdish crude from Kurdistan to the Turkish port of Ceyhan. From there, the oil makes its way to Israel and other markets (depending on which story you believe) and if anyone needs to be thrown off the trail along the way, there's a ship-to-ship transfer trick that can be executed off the coast of Malta. The maneuver allegedly makes the cargoes more difficult to track.
Some believe Erdogan's son Bilal – who owns a marine transport company called BMZ Group – is heavily involved in the trafficking of Kurdish and ISIS crude. Most of the ships BMZ owns are Malta-flagged.
In light of the above, some have speculated that Turkey shot down the Su-24 in retaliation for Russia's bombing campaign that recently has destroyed over 1,000 ISIS oil trucks. Here's what Syrian Information Minister Omran al-Zoub said on Friday:
"All of the oil was delivered to a company that belongs to the son of Recep [Tayyip] Erdogan. This is why Turkey became anxious when Russia began delivering airstrikes against the IS infrastructure and destroyed more than 500 trucks with oil already. This really got on Erdogan and his company's nerves. They're importing not only oil, but wheat and historic artefacts as well."
Al-Zoub isn't alone in his suspicions. In an interview with RT, Iraqi MP and former national security adviser, Mowaffak al Rubaie – who personally led Saddam to the gallows – said ISIS is selling around $100 million of stolen crude each month in Turkey. Here are some excerpts:
"In the last eight months ISIS has managed to sell … $800 million dollars worth of oil on the black market of Turkey.This is Iraqi oil and Syrian oil, carried by trucks from Iraq, from Syria through the borders to Turkey and sold …[at] less than 50 percent of the international oil price."

"Now this either get consumed inside, the crude is refined on Turkish territory by the Turkish refineries, and sold in the Turkish market. Or it goes to Jihan and then in the pipelines from Jihan to the Mediterranean and sold to the international market."

"Money and dollars generated by selling Iraqi and Syrian oil on the Turkish black market  is like the oxygen supply to ISIS and it's operation," he added. "Once you cut the oxygen then ISIS will suffocate."

"There isn't a shadow of a doubt that the Turkish government knows about the oil smuggling operations.The merchants, the businessmen [are buying oil] in the black market in Turkey under the noses – under the auspices if you like – of the Turkish intelligence agency and the Turkish security apparatus."

"There are security officers who are sympathizing with ISIS in Turkey. They are allowing them to go from Istanbul to the borders and infiltrate … Syria and Iraq."

"There is no terrorist organization which can stand alone, without a neighboring country helping it – in this case Turkey."
That's pretty unequivocal. But it gets better.
image: RT
Help us spread the ANTIDOTE to corporate propaganda.

Please follow SGT Report on Twitter & help share the message.