by Steve St. Angelo, SRS Rocco Report: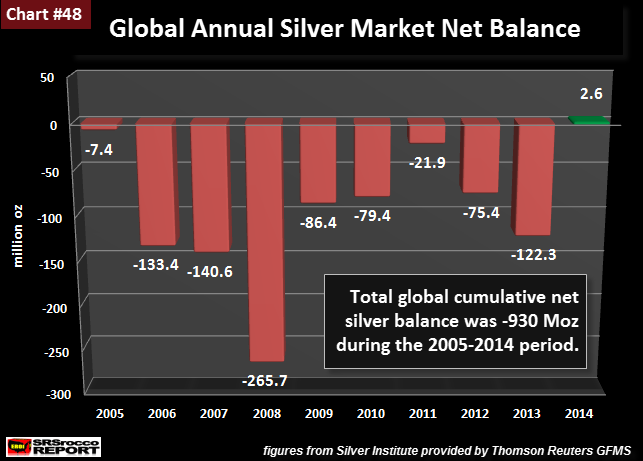 According to the recently released Silver Institute 2015 Interim Report, the world experienced annual silver net deficits for 12 years running. This is surprising as the Silver Institute actually reported a small net surplus of silver in 2014. However, the small silver surplus turned into a deficit when 2014 mine supply and total demand figures were revised.
If we look at the chart below (using last year's data), annual silver deficits were reported until 2013 and then turned into a surplus in 2014:
This was Chart #48 from THE SILVER CHART REPORT, released earlier this year.  Going by this data, the world suffered a cumulative net deficit of 930 million oz (Moz) for the past decade (2005-2014).
The annual net balance figure is calculated using data from Thomson Reuters GFMS provided for the Silver Institute.
The annual net balance figure is comprised by first subtracting total physical demand from total supply.  This is their "Physical Surplus or Deficit figure."  They then take this physical surplus or deficit figure and add or subtract net changes in Silver ETFs and Exchange Inventories.   The end result is a "Net Balance."  Basically, the annual net silver balance also takes into account the build or decline of Silver ETFs and Exchange inventories.
Even though Thomson Reuters GFMS reported a small silver surplus in 2014, I knew it was going to be revised lower to a deficit.  Why?  Because my analysis showed that they overestimated mine supply and underestimated physical investment demand.
For example, Thomson Reuters GFMS reported 2014 Mexican silver production of 193 million oz (Moz) at the Silver Institute, whereas my figures (taken directly from Mexico INEGI) shown in Chart #8 in THE SILVER CHART REPORT, list actual production at 184.2 Moz.  Mexico INEGI's just revised their 2014 silver production figure to 185.3 Moz.
World Suffers Consecutive Net Deficits For 12 Years Running
If we take the data from the Silver Institute's 2015 Interim Report and 2014 World Silver Survey,the world experienced consecutive silver deficits for the past 12 years:
Read More @ SRSroccoreport.com
Help us spread the ANTIDOTE to corporate propaganda.

Please follow SGT Report on Twitter & help share the message.