by Julie Fidler, Natural Society: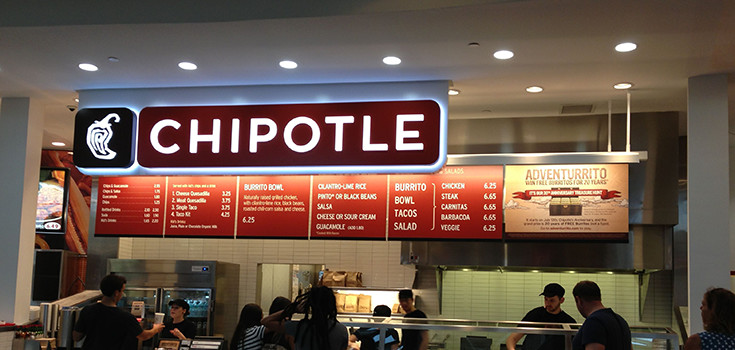 More than 40 Chipotle restaurants across Oregon and Washington were shut down on Friday after 22 cases of E. coli were traced to the establishments.
An investigation is now underway into the source of the outbreak, which began October 14, according to the Oregon Health Authority. Three people in the Portland area and 19 people in Washington have been sickened by the food-borne pathogen. Eight of the affected individuals had to be hospitalized. No deaths have been reported.
"While the outbreak appears to be linked to food served at Chipotle restaurants, the food or other source of contamination hasn't yet been determined and remains under investigation," the department said.
"Anyone who thinks they may have become ill from eating at a Chipotle restaurant in the past three weeks should consult their healthcare provider," epidemiologist Dr. Scott Lindquist said in a Washington Health Department statement.
It's possible there are more cases of E. coli infections than what have been reported so far, said Jonathan Modie, a spokesman with the Oregon Health Authority, as many people may not see a doctor after getting sick. E. coli can cause symptoms like nausea and vomiting; abdominal cramping, pain and tenderness; and diarrhea that can be watery or bloody. In rare cases, E. coli infection can lead to hemolytic uremic syndrome (HUS), which can result in kidney failure and death. HUS symptoms include pale skin, lethargy, little or no urine output, easy bruising and a rash. [1]
"Many people affected with Shiga toxin E. coli may not seek health care, so the number of people made ill by this outbreak is likely more than identified," Modie said. "Health officials want people who have eaten at a Chipotle between Oct. 14 and 23 and become ill with vomiting and bloody diarrhea to see their health-care provider and mention this outbreak."
Read More @ NaturalSociety.com
Help us spread the ANTIDOTE to corporate propaganda.

Please follow SGT Report on Twitter & help share the message.