from Wolf Street: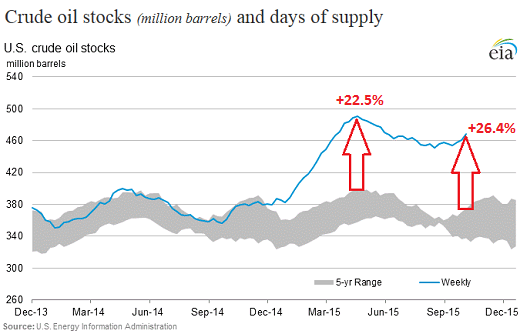 Banks, when reporting earnings, are saying a few choice things about their oil-and-gas loans, which boil down to this: it's bloody out there in the oil patch, but we made our money and rolled off the risks to others who're now eating most of the losses.
On Monday, it was Zions Bancorp. Its oil-and-gas loans deteriorated further, it reported. More were non-performing and were charged-off. There'd be even more credit downgrades. By the end of September, 15.7% of them were considered "classified loans," with clear signs of stress, up from 11.3% in the prior quarter. These classified energy loans pushed the total classified loans to $1.32 billion.
But energy loans fell by $86 million in the quarter and "further attrition in this portfolio is likely over the next several quarters," Zions reported.
Since the oil bust got going, Zions, like other banks, has been trying to unload its oil-and-gas exposure.
Wells Fargo announced that it set aside more cash to absorb defaults from the "deterioration in the energy sector." Bank of America figured it would have to set aside an additional 15% of its energy portfolio, which makes up only a small portion of its total loan book. JPMorgan added $160 million – a minuscule amount for a giant bank – to its loan-loss reserves last quarter, based on the now standard expectation that "oil prices will remain low for longer."
Banks have been sloughing off the risk: They lent money to scrappy junk-rated companies that powered the shale revolution. These loans were backed by oil and gas reserves. Once a borrower reached the limit of the revolving line of credit, the bank pushed the company to issue bonds to pay off the line of credit. The company could then draw again on its line of credit. When it reached the limit, it would issue more bonds and pay off its line of credit….
Help us spread the ANTIDOTE to corporate propaganda.

Please follow SGT Report on Twitter & help share the message.