by Pam Martens and Russ Martens, Wall Street on Parade: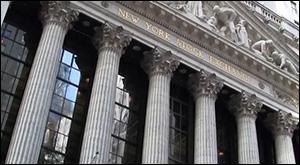 Chances are pretty high that among the daily lexicon of most Americans, you are not going to hear the words "maker-taker." And yet, outside of the debate about preventing Wall Street's too-big-to-fail banks to create another epic taxpayer bailout in the future, the maker-taker debate is one of the hottest on Wall Street. On Tuesday of this week, the glacially-slow to respond Securities and Exchange Commission (SEC) held a full day hearing on the "maker-taker" model and other stock market structure dysfunctions.
In simple terms, maker-taker is another wealth extraction tool used by Wall Street firms to pick the public's pocket in the name of stock market liquidity. In more complex terms, brokers servicing retail clients and institutions (like those managing your pension money) are incentivized to send their customers' stock limit orders to trading venues that will pay them a rebate (on the premise that they are "making" liquidity) while traders who trade on those limit orders are charged a fee (on the premise they are "taking" liquidity). Thus the maker-taker model.
Finance Professor Larry Harris, of the USC Marshall School of Business, told the SEC panel on Tuesday that "fees charged to access standing limit orders are essentially kickbacks that exchanges charge people who want to trade with their clients who offer limit orders. In any other context, collecting such fees would constitute a felony. Although legal in the security markets, they are impediments to fair and orderly markets. They need to go away."
Broker-dealers who process retail customer stock orders as an "agent" for the customer have a duty under the law to route stock orders to the venue which will provide best execution to their customer, not to the venue that will give the broker-dealer the biggest rebate. Professor Harris told the SEC panel that the maker-taker model undermines the agency role of broker-dealers, because "Customers whose standing limit orders were routed to maker-taker trading systems were worse off because their orders did not trade as quickly as they would have traded had they been posted at traditional exchanges."
Tragically, most of the traditional stock exchanges, as well as most of the dark pools that proliferate across Wall Street, are today using the maker-taker model.
The maker-taker pricing model typically means a charge of $0.003 per share to take liquidity (30 cents per 100 shares) while paying a rebate of $0.002 per share to post limit orders (20 cents per 100 shares). The trading venue keeps the difference, or 10 cents per 100 shares. On billions of shares traded, that's real money. And it's not going back to the customer.
Read More @ Wallstreetonparade.com
Help us spread the ANTIDOTE to corporate propaganda.

Please follow SGT Report on Twitter & help share the message.