by Pam Martens and Russ Martens, Wall Street On Parade: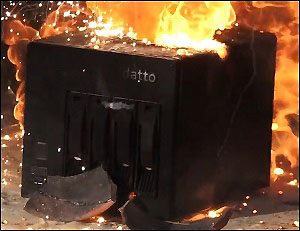 Hillary Clinton just can't catch a break. After making the admitted poor choice of using a private server for her emails during her time as Secretary of State instead of one protected by the U.S. government and its security octopus, Hillary has told the public that she turned over all work-related emails from her time as Secretary of State to the government and erased all of her 31,000 personal emails from that period.
Now it turns out that a company called Datto Inc., which routinely makes demos of setting fire to equipmentto show how indestructible its data backup system is, may have a stash of Hillary's emails. Its founder and CEO, Austin McChord, was named this year as one of Forbes "30 Under 30," a prestigious list of technology entrepreneurs under the age of 30.
To make matters even more alarming for the Presidential candidate who is slated for her first Democratic debate next Tuesday, Datto Inc. has confirmed that it has handed over its Hillary backup contents at the request of the FBI after obtaining her permission and that of the firm that hired it to do the backups, Platte River Networks.
Hillary left her post as Secretary of State in February of 2013 but the State Department did not request her work emails until October 28, 2014. It is believed that Datto has performed backup of her data since June 2013, prior to her turning over the material to the State Department. Hillary has stated that none of the emails on her private server were marked as classified, but intelligence agencies have since said there were at least 400 emails that contained classified information, including two that were "Top Secret," a classification of material that only top levels of government officials are allowed to see after passing comprehensive background checks. The FBI is investigating the matter.
It is not presently known if Datto Inc. was cleared to store classified government material or if it had classified material on its system.
The latest uproar is a result of a letter written to Datto by Senator Ron Johnson, Chair of the Committee on Homeland Security and Governmental Affairs on Monday. The letter was obtained by McClatchy Newspapers which broke the story.
Read More @ Wallstreetonparade.com
Help us spread the ANTIDOTE to corporate propaganda.

Please follow SGT Report on Twitter & help share the message.