by Michael Snyder, End of the American Dream: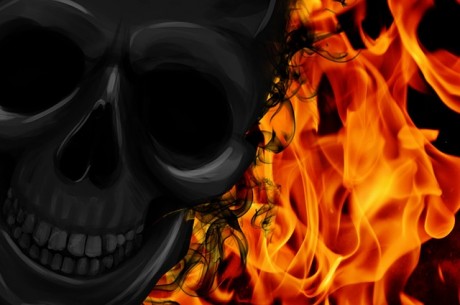 This year, 64 percent of all Americans will celebrate Halloween, but I will not be one of them.  For me, it is a wretched, horrible holiday that celebrates the darkest side of humanity, and it is deeply rooted in ancient pagan traditions that would get people thrown in prison if they attempted to duplicate them today.  With each passing year, the sexually suggestive costumes being marketed to our young girls become even skankier, the horror movies become darker and even more demonic, and the number of Americans that participate in occult ceremonies just continues to grow.  In fact, it has been estimated that the number of self-identified witches in the United States is doubling every 30 months.  Those that are deeply into the occult take this holiday very seriously, and the dark forces that they are dealing with are very real.  So no, I don't want anything to do with this festival of death.  In no particular order, the following are 18 reasons why I don't celebrate Halloween…
#1 I don't want anyone in my family to observe a holiday that celebrates death, witchcraft and the occult.  This year, millions of Americans will participate in activities that could potentially open up a door for demonic activity.
#2 The average American spends $74.34 on the holiday.  I would rather save the money.
#3 Millions of women use Halloween as an excuse to dress like street walkers, and millions of men use Halloween as an excuse to act like sexual predators.
#4 Even little girls as young as three years old are being dressed up in sexually provocative costumes.  What kind of message does this send to them?
#5 Dressing up little children as ghosts, demons and vampires is not healthy for them.  In recent years, there has been a trend to make costumes for children as hellish as possible.
#6 Originally, costumes were worn on October 31st "to change the personality of the wearer to allow for communication with the spirit world".  For 11 years in a row, dressing up as a witch has been the number one costume choice for adults in the United States.
#7 In ancient Britain, the festival known as Samhain was celebrated on October 31st.  It was supposedly a day when dead souls would revisit their old homes.  Personally, I don't want anything to do with contacting the souls of the dead.
#8 According to the History Channel, Samhain was also the day when the Druids "gathered to burn crops and animals as sacrifices to the Celtic deities".
#9 As I have written about previously, the fastest growing religion in America still practices a holiday known as "Samhain" to this very day.
#10 According to Wiccans, Halloween is the time when the veil between the living and the dead is considered to be the thinnest.  They believe that on this day their god "dies" and is reborn every year on the Winter Solstice.  This year the winter solstice falls on December 22nd.
#11 In ancient times, the resurrection of the sun god required human and animal sacrifice.  The following is what occult expert Bill Schnoebelen says that the Druids would do at this time of the year…
Druids worshiped the sun god, called by names like Bel (Ba'al?) or Chrom. On October 31, they believed that he died and went into the kingdom of the dead, Anwynn. The purpose of Samhain was to insure his return. Even witches admit this involved human sacrifice.

Both animal and human blood were believed to be needed to resurrect Bel on Samhain. Human blood was believed to open the gates of Anwynn and released the spirits for a night. Thus, October 31 came to be associated with ghosts. This is not just history. Samhain is still celebrated by Pagans and is the most solemn ceremony on their "religious calendar".
#12 To this day, animal torture and sacrifice is still practiced on Halloween by occultists.  Many animal shelters will not adopt out black cats during the month of October for this very reason.
Read More @ EndoftheAmericanDrean.com
Help us spread the ANTIDOTE to corporate propaganda.

Please follow SGT Report on Twitter & help share the message.