from State of the Nation: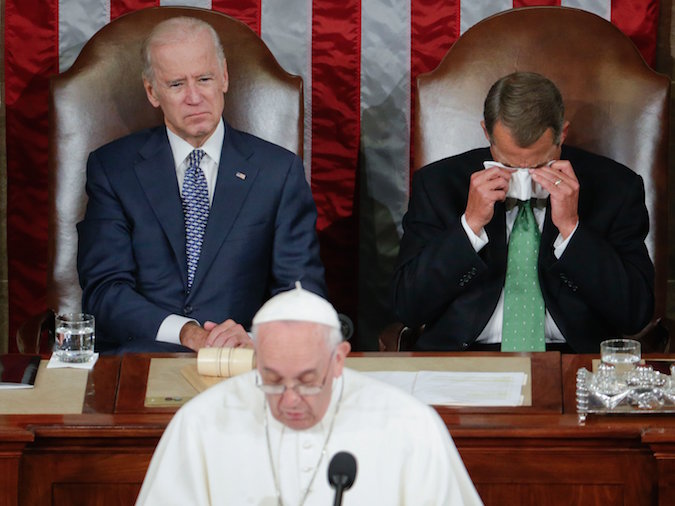 It is now well known that John Boehner is a dedicated lifelong Roman Catholic. It is also known that he has pushed for having the Pope come to America and address the U.S. Congress over many years. Meeting the Pope has always been a dream of Boehner's which has just come true. What he failed to realize was that such a moment would trigger a realization of his profound betrayal of Roman Catholic teachings and universal morality.
One relatively short papal visit after the historic Congressional address put John Boehner face to face with himself. Clearly, the Pope reflected back to him the woeful lack of commitment to the most basic principles of civilization and pillars of Western society. Whether the Pope told him directly or by papal courier, Boehner had violated Catholic law and morality IN THE WORST POSSIBLE WAYS.
In so doing John Boehner, through his continual crimes of commission and acts of omission in his capacity as Speaker of the House, was directly responsible for the whole nation's transgression of natural law and divine order.  His meeting with the Pope surely brought this reality into stark relief.  Hence, his uncontrollable crying and emotional outburst in having to confront his grave offenses against the Almighty.  In yesterday's case, not against the Pope, against the Lord Almighty.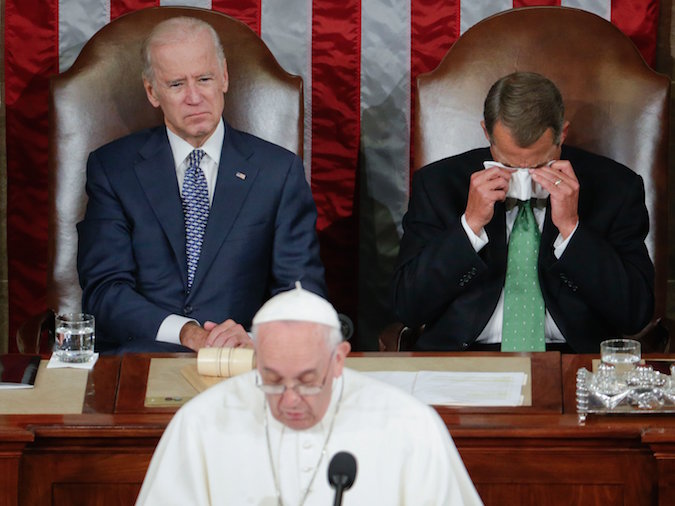 These Assertions Are Made Without A Hint Of  Hyperbole
Because of the pervasiveness and profundity of moral depravity throughout all of American society, most don't even know what is being categorically asserted here.  John Boehner, more than anyone else in the U.S. Federal Government, was in the position to challenge President Obama's morally bankrupt agenda.  Instead of using his power to stop or slow down Obama's nefarious plans, he enabled the Obama Administration.
It's true that the Democratic Party has devolved into a completely immoral and unethical coterie of criminals.  The DNC leadership, from the top on down, operates without conscience.  The Democratic addiction to prevarication and deception is now the stuff of legend; and it becomes more shameless and relentless by the day.  Boehner knows this. Actually, he know this and much, much more.
What's the key point?  What are the critical repercussions of Boehner's conduct?
Because of John Beohner's serial negligence and shocking resistance to legislating righteously, he is now responsible for pushing the American Republic into an unprecedented emergency, if not outright collapse.  Why and how so?
Because he has received hard and indisputable evidence that Planned Parenthood has been committing the most serious felonies — IN BROAD DAYLIGHT — for many years. And what is his response.  He rebuffed his Republican peers in the House and instead enables the hardcore criminals on the other side.  That's not to say the the Republican side does not have its many hardened criminals as well.  The W. Bush Administration had a whole penitentiary of incorrigible criminals in its midst.  Back to the odious crime syndicate known as Planned Parenthood.
Yes, when you sell the body parts of aborted fetuses, you are a HARDCORE criminal … of the worst order.  And yet Boehner continued to protect this thoroughly corrupt organization and their co-comspirators every single day, in spite of being provided categorical evidence of their criminality.
Read More @ Stateofthenation2012.com
Help us spread the ANTIDOTE to corporate propaganda.

Please follow SGT Report on Twitter & help share the message.