The extinction of retirement and the growing old age labor force.
from MyBudget360.com: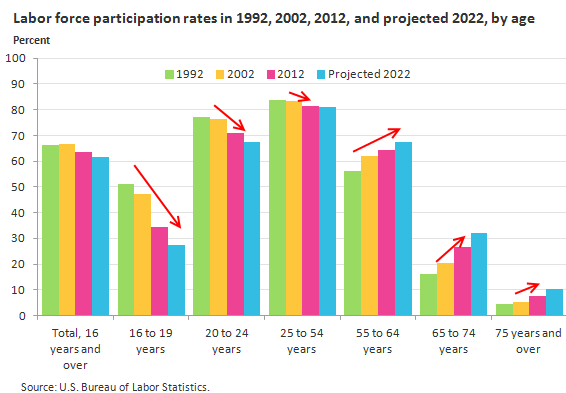 I was greeted by an older gentleman at a local Target store.  He slowly smiled and said hello.  I nodded and said hello as he proceeded to greet other shoppers.  Leaving the store I was greeted by an older cashier.  Over the last decade, the retail labor force is seeing a growing number of older Americans.  Many don't envision retirement as working in a low-wage job but that is simply the way of life for many.  The BLS estimates that labor force participation rate for those 65 to 74 years of age is going to increase to 31.9 percent in 2022.  That is an incredibly high number of older Americans eligible for Social Security still working in the labor force.  This is happening as younger Americans make up a smaller portion of the labor force and as many more Americans enter into college.  Yet one thing that is rarely discussed is that many older Americans are going to work until they die out of necessity.  Not a few.  Not a couple.  A large portion of older Americans are working deep into old age because they can't afford to retire.
Working into the grave
The idea of having a long-term retirement of doing nothing aside from sipping margaritas is a relatively new notion.  It is a notion that grew out of the post-World War II economic boom and was quickly subverted by the mutual fund idolization that started in the early 1980s to phase out pensions.  The cumulative end result is that many Americans were sold the dream but very few have access to this vision.
Take a look at participation rates for various age groups: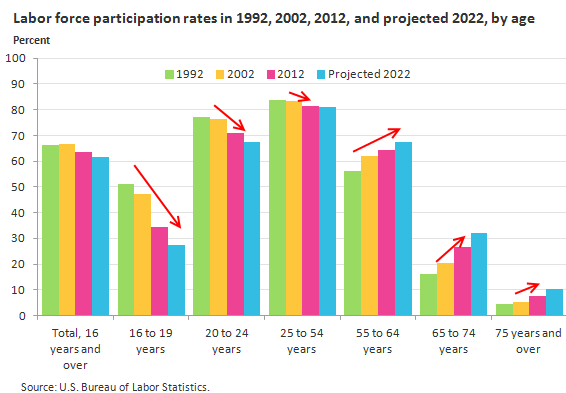 Source:  BLS
This is a big change.  In 2002 20 percent of those 65 to 74 participated in the labor force.  The trend is only heading up and it certainly isn't because Americans are suddenly in a better financial position.  It is interesting that the trend for younger workers is the opposite.  You would expect that teenagers would hold retail jobs for experience but that is not the case.
Help us spread the ANTIDOTE to corporate propaganda.

Please follow SGT Report on Twitter & help share the message.