from SRS Rocco: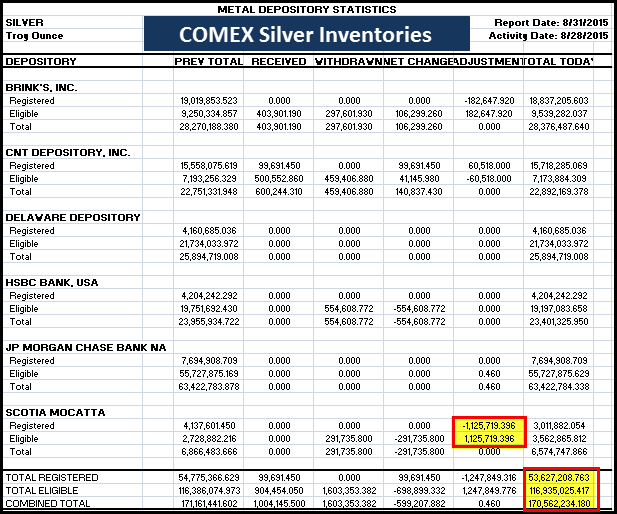 Something has seriously changed in the silver market as traditional indicators no longer seem to matter. Normally when the price of a commodity falls, so does demand. However, we are seeing quite the opposite as investors continue to buy silver bullion hand over fist.
This surge in physical silver demand has put more stress on global silver inventories. Let's take a look at the last two COMEX Silver Inventory updates. On Monday's update (8/31/15), the COMEX reported a total deposit of 1 million oz (Moz) and 1.6 Moz withdrawal for a net 600,000 oz decline. Actually, it was a net 599,207 oz withdrawal, but what's a few ounces between banker friends.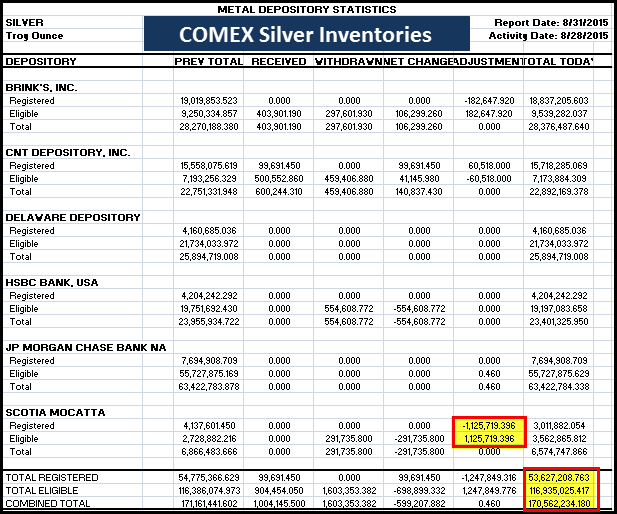 While the 600,000 oz net withdrawal was somewhat interesting, the real item to focus on was the cool 1,125,719 oz transfer of Scotia Mocatta's Registered silver to its Eligible category.  Thus, this now puts the total COMEX Registered silver at 53.6 Moz compared to the 55.8 Moz last week.
That might not seem like a lot, but total COMEX Registered silver inventories were 70.6 Moz back in April.  That's nearly a 25% decline of total Registered silver inventories at the COMEX in five months.  We must remember, Registered inventory means that the silver is available for delivery to those who demand bullion by being registered as such with a bullion dealer.
So, only 53.6 Moz of silver is now available for delivery.  On the other hand, Eligible silver inventories means that the silver is in a condition that conforms to the standards of delivery. Size and quality of the bar in other words. It is being stored at the Comex warehouse, but is not offered for delivery into contracts.  The majority of silver at the COMEX is stored in the Eligible category.
That being said, the Eligible inventories experienced another whopper of a decline today as nearly 2 Moz of silver were withdrawn:
Help us spread the ANTIDOTE to corporate propaganda.

Please follow SGT Report on Twitter & help share the message.