by Pam Martens and Russ Martens, Wall Street On Parade: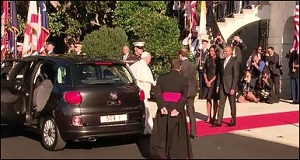 Pope Francis will address a joint session of the U.S. Congress this morning and is expected to lecture on the country's ethical and moral challenges. Some feel he should get his own house in order before lecturing others.
President Obama held the largest welcoming event for the Pope yesterday on the White House lawn in the history of his administration, replete with color guards and a fife-and-drum corps. The Pope, who prides himself on disdain for materialism and the worship of money, arrived in a tiny Fiat. (See video below.)
But the American media's love fest with the Pope wilted in the afternoon when the Pope addressed a group of 300 bishops at the Cathedral of St. Matthew the Apostle in Washington, D.C. The Pope spoke in only cryptic terms about the horrors of sexual abuse of children within the church. He was immediately excoriated in statements from victims of priest abuse, which were widely carried by mainstream media.
The Pope's laundry list of criticisms of where society is off the rails includes rising poverty, homelessness, income inequality, and climate change but the Pope appeared yesterday to want to push the rape of children by "men of God" into the same dark shadows for which the church has now become notorious. The Pope's sole reference in his address at St. Matthew's to the horrific acts upon children by Catholic priests and the bishops who shunted the priests from parish to parish to perpetuate the abuse, was this:
"I am also conscious of the courage with which you have faced difficult moments in the recent history of the Church in this country without fear of self-criticism and at the cost of mortification and great sacrifice. Nor have you been afraid to divest whatever is unessential in order to regain the authority and trust which is demanded of ministers of Christ and rightly expected by the faithful. I realize how much the pain of recent years has weighed upon you and I have supported your generous commitment to bring healing to victims – in the knowledge that in healing we too are healed – and to work to ensure that such crimes will never be repeated."
Commenting on the "pain" of the bishops and their "courage" was met with outrage by victims of the abuse. Barbara Blaine, President of Survivors Network of Those Abused by Priests (SNAP), released a statement noting that it was bishops who "enabled horrific crimes," and that only four have resigned. Blaine said further:
Read More @ Wallstreetonparade.com
Help us spread the ANTIDOTE to corporate propaganda.

Please follow SGT Report on Twitter & help share the message.