from Credit Bubble Bulletin: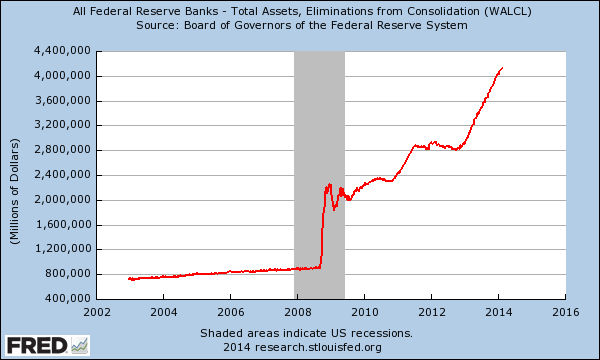 September 18 – Reuters: "The world's leading central banks are facing the risk that their massive efforts to revive economic growth could be dragged down again, with some officials arguing for bold new ideas to counter the threat of slow growth for years to come. A day after the U.S. Federal Reserve kept interest rates at zero, citing risks in the global economy, the Bank of England's chief economist said central banks had to accept that interest rates might get stuck at rock bottom. In Japan, where interest rates have been at zero for more than 20 years, policymakers are already tossing around ideas for overhauling the Bank of Japan's huge monetary stimulus program as they worry that it will be unsustainable in the future, according to sources familiar with its thinking. Separately a top European Central Bank official said the ECB's bond-buying program might need to be rethought if low inflation becomes entrenched."
Most just scoff at the notion that there has been a historic global Bubble, let alone that this Bubble has over recent months begun to burst. Talk of an EM and global crisis is viewed as wackoism. Except that the Federal Reserve clearly sees something pernicious in the world that requires shelving, after seven years, even the cutest little baby step move in the direction of policy normalization.
chart: Fed Balance Sheet, via MyBudget360.com
The Fed and global central banks responded to the 2008 crisis with unprecedented measures. When the reflationary effects of these policies began to wane, the unfolding 2012 global crisis spurred desperate concerted do "whatever it takes" monetary stimulus. This phase has now largely run its course, and there is at this point little clarity as to what global central bankers might try next.
Clearly, great pressure will remain to hold rates tight at zero. I fully expect policymakers at some point to see no alternative than to implement additional QE. But under what circumstances? Will it be orchestrated independently or through concerted action? What about timing? How much and how quickly? Might global central banks actually consider adopting negative rates? Well, there's enough here to really have the markets fretting the uncertainty, especially with global central bankers not having thought things through.
There is today extraordinary confusion and misunderstanding throughout the markets. Policymakers are confounded. Years of zero rates, Trillions of new "money" and egregious market intervention/manipulation have left global markets more vulnerable than ever. Now What? I'm the first to admit that global Credit, market and economic analyses are these days extraordinarily complex – and remain so now on a daily basis. We must test our analytical framework and thesis constantly.
I am confident in my analytical framework and believe it provides a valuable prism for understanding today's complex world. The current global government finance Bubble is indeed the grand finale of serial Bubbles spanning about 30 years. Importantly, each Boom and Bust Bubble Cycle – going back to the mid-eighties ("decade of greed") – spurred reflationary policy measures that worked to spur a bigger Bubble. Inevitably, each bursting Bubble would ensure only more aggressive inflationary policy measures.
It is fundamental to Credit Bubble Theory (heavily influenced by "Austrian" analysis) that the scope of each new Bubble must be bigger than the last. Credit growth must be greater, speculation must be greater and asset inflation must be greater. This Financial Sphere inflation is essential to sufficiently reflate the Real Economy Sphere – i.e. incomes, spending, corporate earnings/cash flows, investment, etc. Reflation is necessary to validate an ever-expanding debt and financial structure, including elevated asset prices. Ongoing rapid Credit growth is fundamental to this entire process, much to the eventual detriment of financial and economic stability.
There are a few key points that drive current analysis (completely disregarded by conventional analysts). First, the government finance Bubble saw historic Credit growth unfold in China and EM – Credit expansion sufficient to reflate a new Bubble after the bursting of the mortgage finance Bubble. Central to my thesis: when the current Bubble bursts – especially with regard to China – it will be near impossible to spur sufficient global Credit growth to inflate a bigger ensuing Bubble. Second, with the global government finance Bubble emanating from the very foundation of contemporary "money" and Credit, it will be impossible for governments and central banks to extricate themselves from monetary stimulus (any tightening would risk bursting Bubbles). Third, extreme measures – monetary inflation coupled with market manipulation – spurred enormous "Terminal Phase" growth in the global pool of speculative finance. It's been a case of too much "money" ruining the game.
Read More @ Creditbubblebulletin.blogspot.com
Help us spread the ANTIDOTE to corporate propaganda.

Please follow SGT Report on Twitter & help share the message.