by Michael Snyder, End of the American Dream: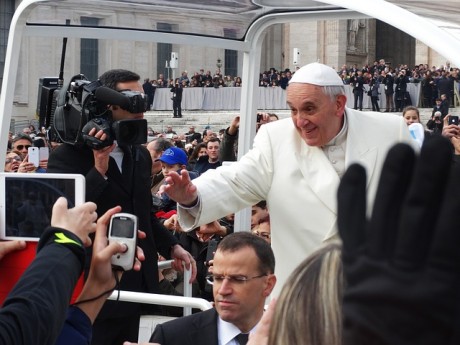 Remarks made by Pope Francis at St. Patrick's Cathedral in Manhattan have sparked a firestorm of criticism from those that do not believe that Christians and Muslims worship the same God. Many have taken the Pope's remarks as a major step in the direction of a one world religion, and the truth is that the Pope has made other such statements in the past. In recent years, the theory that Christianity and Islam are just two distinct paths to God among many others has rapidly gained traction all over the planet. Some religious leaders have even gone so far as to try to merge Islamic and Christian practices, and the term "Chrislam" is now often used to describe this ecumenical movement. If all this sounds incredibly strange to you, just keep reading, because this is just the tip of the iceberg.
What Pope Francis had to say at St. Patrick's Cathedral in Manhattan has received very little coverage by the mainstream media, but it was exceedingly significant.  The following is how he began his address…
I would like to express two sentiments for my Muslim brothers and sisters: Firstly, my greetings as they celebrate the feast of sacrifice. I would have wished my greeting to be warmer. My sentiments of closeness, my sentiments of closeness in the face of tragedy. The tragedy that they suffered in Mecca.

In this moment, I give assurances of my prayers. I unite myself with you all. A prayer to almighty god, all merciful.
He did not choose those words by accident.  In Islam, Allah is known as "the all-merciful one".  If you doubt this, just do a Google search.
And this is not the first time Pope Francis has used such language.  For instance, the following comes from remarks that he made during his very first ecumenical meeting as Pope…
I then greet and cordially thank you all, dear friends belonging to other religious traditions; first of all the Muslims, who worship the one God, living and merciful, and call upon Him in prayer, and all of you. I really appreciate your presence: in it I see a tangible sign of the will to grow in mutual esteem and cooperation for the common good of humanity.

The Catholic Church is aware of the importance of promoting friendship and respect between men and women of different religious traditions – I wish to repeat this: promoting friendship and respect between men and women of different religious traditions – it also attests the valuable work that the Pontifical Council for interreligious dialogue performs.
Pope Francis clearly believes that Christians and Muslims worship the exact same God.  And so that helps to explain why he authorized "Islamic prayers and readings from the Quran" at the Vatican for the first time ever back in 2014.
Read More @ EndoftheAmericanDream.com
Help us spread the ANTIDOTE to corporate propaganda.

Please follow SGT Report on Twitter & help share the message.