1.4 million waiter/bartender jobs gained while 1.4 million manufacturing jobs lost since 2007. Top 4 employment sectors pay $10 an hour or less.
from MyBudget360.com: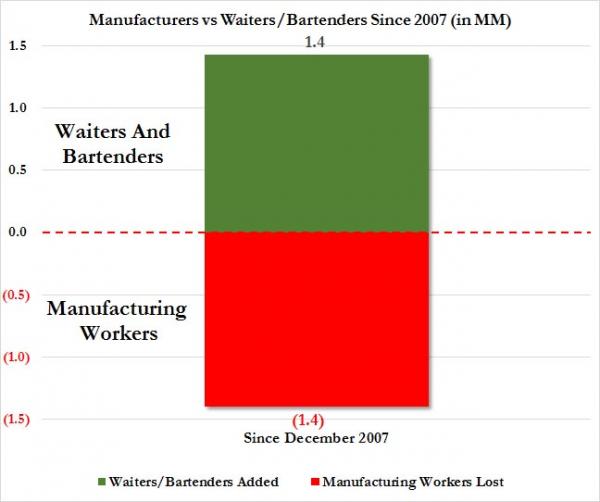 The media pundits are scratching their heads as to why two political outsiders are garnering all the attention.  You want to know why?  Both are addressing the low wage epidemic plaguing the country.  Now we can debate their policies since both stand at the extreme opposite ends of the spectrum but their message is clear – the reason you are going broke is because of the way things are and the deep capture of the financial status quo.  And when we look at data, the trend is unmistakable.  For example, since 2007 we have lost 1.4 million manufacturing jobs.  During this same period, we have added 1.4 million waiter/bartender jobs.  It is really no surprise that our top 4 employment sectors in the US pay $10 an hour or less.  Keep in mind that with talks of the minimum wage being pushed up to $15 an hour, all of these employment sectors will be impacted.  We are still seeing a dramatic growth in low wage jobs across this country.  It also doesn't help that true inflation is hitting people directly in their slimmed down wallets.
The service economy
It shouldn't come as a shock that we continue to expand on the service sector jobs since these are positions that can't be outsourced.  But how many college graduates can we have working at Chipotle or Starbucks?  It would be one thing if these positions were staffed by older teenagers or those going to college to earn a little extra to pay the bills.  It is another thing when graduates are working here in the millions trying to get by.
Since 2007 we've added 1.4 million waiter/bartender jobs while losing 1.4 million manufacturing jobs: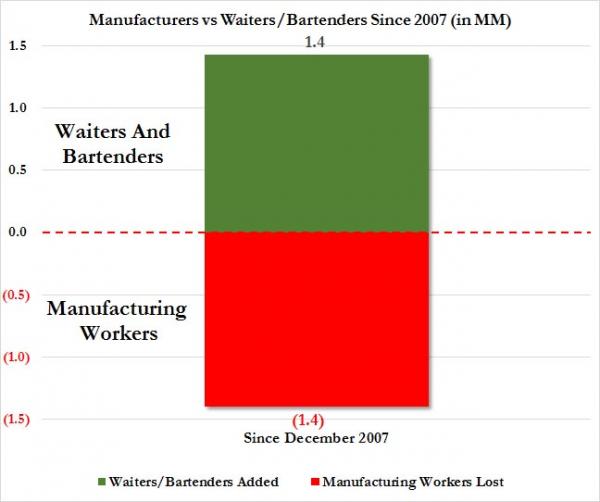 I'm not sure if this is the kind of job growth we are looking for. Yet this is another reason why wages overall are stagnant across this nation. We've gone into great detail regarding inflation since the BLS data continues to show only modest movement when in reality, people are dealing with big price changes in the things that matter like housing, cars, college, and healthcare.
Help us spread the ANTIDOTE to corporate propaganda.

Please follow SGT Report on Twitter & help share the message.