from SRS Rocco: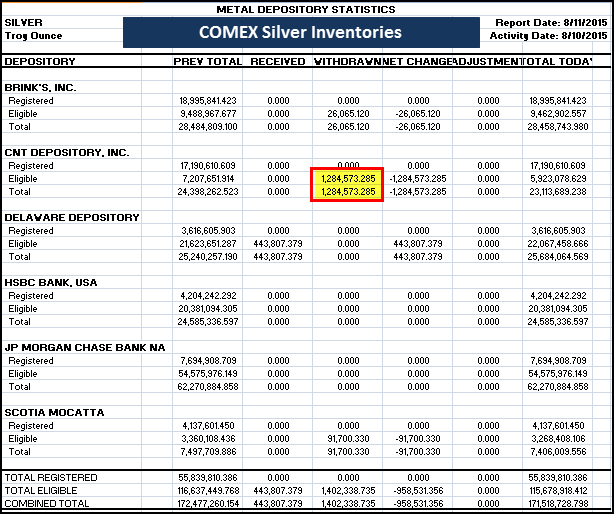 The market doesn't realize it yet, but the coming collapse of the global stock and bond markets will totally wipe out world silver supplies.  Unfortunately, this will occur at the time when main stream investors finally understand the value of owning physical silver. 
Global Financial turmoil and low silver prices motivated experienced precious metals investors to purchase record amounts of silver.  However, the market is starting to see a huge inflow of new and first-time gold and silver buyers.  According to Money Metal Exchange, they experienced a 365% increase in first-time buyers over the past 45 day period (June 16th-July 31st).
This recent surge in buying has put a huge dent in the retail physical silver market and is now impacting the wholesale market.  The COMEX suffered another large 1 million oz (Moz) withdrawal from its warehouse inventories today: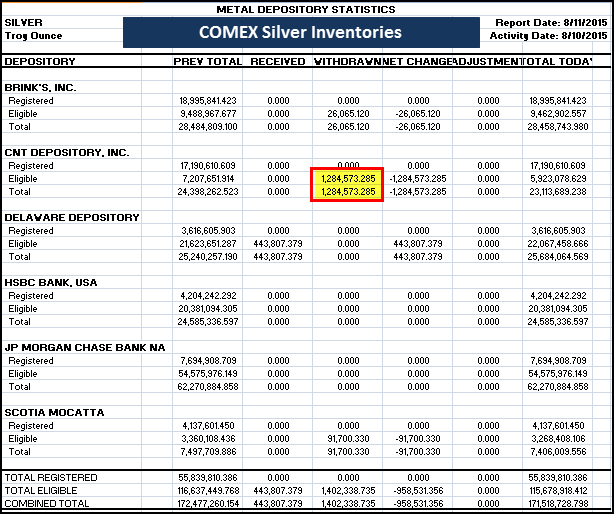 The CNT Depository had 1.28 Moz of silver taken out of its Eligible category.  When we add up the other small withdrawals and the 443,807 oz deposit, the net amount of silver removed from the COMEX was 958,531 oz.  Almost another cool million ounces of silver removed in just one day.
Then we had a new update on U.S. silver imports from the folks at the USGS.   According to the data for May, the U.S. imported another 475 metric tons (mt) of silver.  If we add up all U.S. silver imports JAN-MAY, it turns out to be a whopping 2,510 mt (81 million oz).
Help us spread the ANTIDOTE to corporate propaganda.

Please follow SGT Report on Twitter & help share the message.