by Pam Martens and Russ Martens, Wall Street on Parade: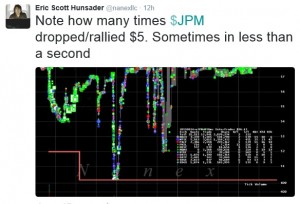 America's largest bank, JPMorgan Chase, has lost 10.87 percent of its market capitalization in the past three trading sessions. That's $27.18 billion in three days, raising serious questions about the Federal Reserve's theory that beefed up equity capital would buffer the mega banks in a market downturn.
While the Dow Jones Industrial Average lost 3.57 percent yesterday, JPMorgan lost 5.27 percent, despite its rich dividend yield of 2.92 percent.
The indefatigable Eric Hunsader, owner of the market data firm Nanex, was Tweeting the abominations occurring in the stock market yesterday as the opening bell set off a bungee dive to a loss of 1,089 points in the Dow Jones Industrial Average (DJIA). The Dow ended the day down 588 points to close at 15,871.35, a three day loss of 1,477 points.
One of Hunsader's Tweets remarked on the bizarre price action in the stock of JPMorgan Chase, a member of the 30 stocks in the DJIA. The chart posted by Hunsader showed that JPMorgan's stock was flash crashing by $5 a pop, only to regain the loss seconds later. The price action shown on the chart above occurred between 9:33 and 9:34 a.m., within moments of the market open.
So who was this miracle worker helping to boost JPMorgan's sagging share price? According to the SEC's amended Rule 10b-18, JPMorgan Chase could have had its own agent buying back its stock after just one "independent" trade had occurred at the opening. The SEC's amended rule notes:
"…because the opening transaction continues to set the tone for that day's trading session, the safe harbor will continue to preclude an issuer from being the opening (regular way) purchase reported in the consolidated system."
But after the first opening trade, the SEC explains:
Read More @ WallStreetonParade.com
Help us spread the ANTIDOTE to corporate propaganda.

Please follow SGT Report on Twitter & help share the message.