by Pam Martens and Russ Martens, Wall Street On Parade: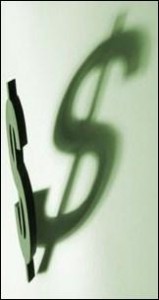 Wall Street has tried to keep all eyes focused on the ongoing rout in China's stock markets and away from the slowdown in both earnings and revenues in the Standard and Poor's 500 index of the largest U.S. corporations. In remarks yesterday, Sam Stovall, Managing Director of U.S. Equity Strategy for S&P Capital IQ said that among the growing concerns are "a possible U.S. profit recession."
Last evening, Bloomberg Business reported that "Profits reported by S&P 500 companies in the second quarter fell 2 percent from a year ago and are projected to slip 5.5 percent in the current period."
As earnings and revenues slide, the corporate balance sheets bloated with debt taken on to buy back the company's own shares will provide an unwelcome headwind to grow earnings. Since 2009, S&P 500 corporations have spent over $2 trillion buying back their own stock.
According to the U.S. Treasury's Office of Financial Research in a report released in March, "corporate debt outstanding has risen to $7.4 trillion, up from $5.7 trillion in 2006," noting that a significant portion of that was spent on share buybacks. The report goes on to note that "Although this financial engineering has contributed to higher stock prices in the short run, it detracts from opportunities to invest capital to support longer-term organic growth. Credit conditions remain favorable today because of the positive trend in earnings, but once the cycle turns from expansion to downturn, the buildup of past excesses will eventually lead to future defaults and losses."
Further angst on Wall Street stems from worries about just how the U.S. mega banks might fare in a market meltdown. As we reported in June, some of the largest banks are back to their dodgy practices, this time entering into "capital relief trades" with questionable counter parties like hedge funds and private equity firms. The capital relief trades allow the banks to enter into derivative trades that dress up the appearance of stronger capital while keeping the deteriorating assets on their books.
The Office of Financial Research (OFR) released a report on the practice in June and suggested these derivatives deals may present systemic risk to the financial system. What was particularly stunning about the report is that it directly linked the current behavior to the same type of behavior as that which collapsed the economy in 2008.
Read More @ Wallstreetonparade.com
Help us spread the ANTIDOTE to corporate propaganda.

Please follow SGT Report on Twitter & help share the message.