UPDATE: We have not been able to verify "internment camps for extremists" in HR 2899. We regret running with this claim from the original article from Before Its News. Jeff Nielson sees HR 2899 this way: U.S. Creating a Ministry of Propaganda – and this from our friend Eric at News Doctors: "DHS and FEMA most certainly have plans to round-up "extremists" but H.R. 2899 and this new "office" it provisions looks to be focused on the information war… To really figure out what's going on here, one of the things we need to do is find out what "sections 2003 and 2004" pertain to. When bills make oblique references like this, it's really a pain in the neck to connect dots."
by SGT, SGT Report.com: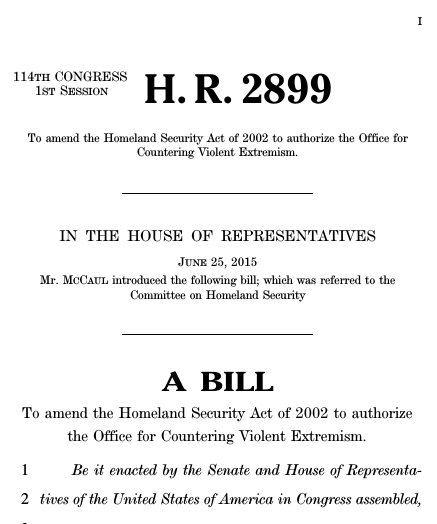 Friends, as I have long lamented, the fascist overreach of the US Federal Government and our "Representatives" is moving faster than any one of us can possibly document. "It takes a village" as Hillary once famously quipped, to keep an eye on the Orwellian tyranny.
My friend Waldemar from Intercept Media e-mailed me with yet another troubling development about which I was unaware. The criminals in Washington have introduced a new Bill which WHEN passed will allow the US government to round up "radicalized" Americans. The Bill is H.R. 2899 The Countering Violent Extremism Act Of 2015, and hardcore red-white-and-blue, Boogey man is under your bed, Pentagon Kool-Aid drinking "Representatives" like Congressman Michael McCaul can't wait to pass it in order to "protect" the "homeland" in this "generation long fight against terror," as he puts it.
And guess which agencies will do the dirty work of rounding up these "pre-crime" extremists? The DHS and FEMA.
As Waldemar writes, "I feel like taking the first plane ticket out of here. Don't know how much longer we are going to have free speech and blogs like yours. Unfortunately I don't see a clear plan to counter this, but I do what we can to help even if does not make much difference. Heart breaking."
Friends, as most of you know, everything we are experiencing today is part of the orchestrated pre-9/11 plan, which is being carried out on the back of that horrific, traumatic day. And no one has explained the big picture of the Orwellian, world government, police state plan any better than the late Hollywood Producer Aaron Russo, a personal friend of Nick Rockefeller.
Waldemar has it right. The smart money is getting out – or has already gotten out of dodge. For those of us who know the truth about the creation and funding of ISIS, which has been recounted time and time again at SGT Report which you can read about here, here, and here, we rapidly find ourselves at a crossroads. We can stay, speak out and continue to try to educate our friends, neighbors and colleagues about the realities of false flag terrorism and the Big Brother Orwellian policies being made "law" as a result of such operations – all of which are leading to the complete collapse of our Republic. Or we can leave the country.
Here's more from Before It's News, and from Congressman McCaul himself:
The United States is headed in the direction of literally becoming Nazi Germany.

A bill is going through the House of Representatives known as H.R. 2899 The Countering Violent Extremism Act Of 2015.

This bill would give power to FEMA and DHS to to round up Americans who are radicalized or are becoming radicalized that they believe are a threat to the nation and put them in FEMA concentration camps.
Congressman McCaul Heritage Foundation Speech on "Terror Gone Viral"
Barack Hussein Obama would use this legislation to round up the tea party, christian conservatives, constitutionalists, military veterans, gun owners, libertarians and all freedom loving Americans and put them in FEMA concentration camps and be executed by all of the U.N. Forces that are here on american soil.
This bill was introduced and sponsored by Rep. McCaul, Michael T. [R-TX-10] on June 25, 2015.
Homeland Security latest Action on this bill was:07/15/2015 Ordered to be Reported (Amended) by Voice Vote.
For those who are still in doubt about what is happening in the US, here's the text to this bill.
Introduced in House (06/25/2015)
Help us spread the ANTIDOTE to corporate propaganda.

Please follow SGT Report on Twitter & help share the message.