Credit card debt outstanding back up to $900 billion. Since 1980 household income up 300% while credit card debt up 1,760%.
from MyBudget360.com: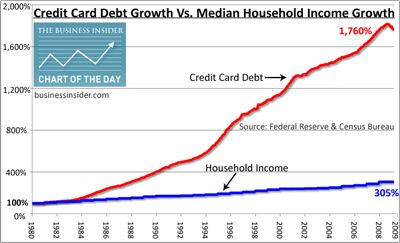 The middle class started disappearing in earnest in the late 1970s. Massive inflation started eating away at the standard of living for most Americans. Yet much of this was covered up by access to debt. Credit cards, creative mortgages, student loans, and auto debt all allowed Americans to continue acting as if prosperity was only an American Express card away. Credit card debt outstanding is now back up to $900 billion, a number last seen during the Great Recession before the great deleveraging. Americans have used debt as a means to cover up the reality that the middle class is disappearing. Credit cards are probably the clearest example of spending money you don't have. Credit cards allow you to literally spend future earned money today. We always hear that many pay their balance off each month. Well the data shows something else. There is $900 billion in credit card debt floating out in the system.
Help us spread the ANTIDOTE to corporate propaganda.

Please follow SGT Report on Twitter & help share the message.