by Pam Martens and Russ Martens, Wall Street on Parade: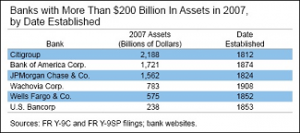 Yesterday, Rajlakshmi De and Hamid Mehran, two researchers at the Federal Reserve Bank of New York, posted an interesting treatise on what it takes to climb into the ranks of the largest banks in the U.S. The duo inform us that as of 2007, prior to the financial crisis, just 0.4 percent of all U.S. banks held $50 billion or more in assets. The six largest U.S. banks in 2007, with assets ranging from $2.1 trillion to $238 billion, had one unique quality in common – they were all more than a century old, except for Wachovia which was one year short of a century.
Wachovia was teetering in 2008 during the financial crisis and was merged into Wells Fargo. The authors do not mention this or that another of the six banks, Citigroup, became insolvent in 2008 but was illegally allowed to survive anyway through the largest taxpayer bailout in U.S. history.
Ignoring a century of big bank scandals, bad debts and rapacious gobbling up of dozens of other banks to climb into the hallowed halls of too-big-to-fail status, the New York Fed researchers arrive at the dubious suggestion that this big-bank survival gene is linked to exceptional "managerial abilities" of the banks' CEOs. In this regard, the authors quote from Gary Becker's 1971 Economic Theory, writing: "Greater efficiency can stem from superior managerial and other entrepreneurial abilities . . . there are only a small number of Wilt Chamberlains and Lew Alcindors in basketball, or Henry Fords in the automobile industry." Interestingly, they can't seem to find a suitable banking legend to cite as a model CEO.
Read More @ WallStreetonParade.com
Help us spread the ANTIDOTE to corporate propaganda.

Please follow SGT Report on Twitter & help share the message.