by Dave Hodges, The Common Sense Show: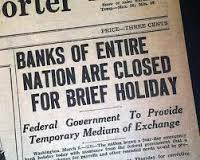 As the global economy sits ready to implode, the World's elite are preparing to steal the bank accounts and all other financial assets of every citizen in all modern nations.
Going, Going, Almost Gone!!!
It has never been more important to get your money out of the bank than it is today. Bank bail-in are coming to America. As of June 3, 2015, the European Commission has ordered 11 EU countries to enact what is called "The Bank Recovery and Resolution Directive (BRRD)" within the next 60 days or be taken before the European Union Court of Justice for failure to comply with the new directive.
Just in case you have not heard the latest, all current bail-in legislation contains the goal of placing the burden on creditors when banks collapse. This means that when the banks crash, you are not getting your money back. The FDIC's only purpose, today, is to protect as many of the assets of the elite as possible. This is a dangerous trend for all bank account holders as evidenced by the fact that Austria brazenly abolished all bank deposit guarantees in April. In our hemisphere, Canada passed bail-in laws last year. In fact, the UK, the U.S., Australia and New Zealand all have plans for bail-ins in the event of banks and other financial institutions begin to fail.
Will the United States Be Next?
As for the United States, templates have been put in place. The plan is that your deposit will no longer be classified as an asset. Instead, you'll be treated as an "unsecured creditor". Keep that in mind as we approach the next economic downturn.
In 2013, I was roundly criticized when I said the Cyprus scenario is coming here. I was told there would be a revolution if this happened and the government would be to afraid to try such a thing. I marvel at people who hold to such naive beliefs. The American people have been through several beta tests related to our private wealth being confiscated and no resistance was offered (e.g. MF Global). Let's take a look and see if my fears, of two years ago, were unfounded.
The Seventh Circuit Court of Appeals of Illinois
On August 9, 2012, the 7th Circuit Court of Appeals (CCA) of Illinois ruled that when you deposit your money into the bank, you no longer "own" that money. Further, the 7th CCA ruled that it is now permissible for your bank to comingle their assets with yours. That does not bode well for getting your money back in the event of a bank failure.
Read More @ TheCommonSenseShow.com
Help us spread the ANTIDOTE to corporate propaganda.

Please follow SGT Report on Twitter & help share the message.