by Michael Snyder, End of The American Dream: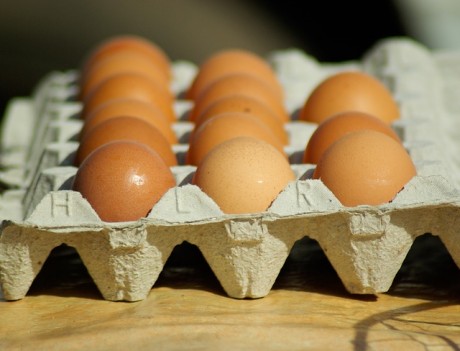 Did you know that 25 percent of all egg production in the United States has already been taken offline due to the bird flu crisis?  You aren't hearing much about this in the mainstream media, but at this point bird flu has claimed the lives of 45 million chickens and turkeys in America.  When I wrote about this a month ago, the number of dead birds was sitting at about 20 million.  In just 30 days, the death toll has risen by an astounding 20 million.  This is a major crisis and it is already causing egg shortages around the country, and yet very few people seem alarmed about this?  Why is that?
And it isn't just one strain of the bird flu virus that we are talking about.  Right now, there are two strains which are spreading like wildfire.
So far, the H5N2 strain has hit the states of Iowa, Kansas, Kentucky, Minnesota, Arkansas, Missouri, Montana, Nebraska, North Dakota, Idaho, Oregon, South Dakota, Washington and Wisconsin.  It has also been identified in the Canadian provinces of Ontario and British Columbia.
The H5N8 strain has not been doing quite as much damage yet, but it has been killing birds in California, Idaho, Indiana, Oregon and Washington.
In addition, Canadian officials have discovered that the H5N1 strain is spreading in British Columbia.
This is the worst bird flu outbreak in the history of North America, and it continues to spiral out of control.  Things have already gotten so bad that some manufacturers are considering switching to "eggless eggs"…
America is facing a major egg crisis due to bird flu, experts have warned.

They say 25 percent of the country's egg production is already offline due to the virus, with more producers expecting to be hit.

To replace eggs, manufacturers are increasingly turning a hi-tech San Francisco firm that makes an 'eggless egg' using a secret blend of plants.
With egg production down 25 percent at this point, and the worst probably still to come, some fast food chains are already cutting back.  For instance, Whataburger has announced that it is going to be limiting the number of hours that it serves breakfast…
Whataburger says it is limiting its breakfast-serving hours, citing egg shortages due to the Midwest bird flu crisis.

The fast-food chain will serve breakfast 5 a.m. to 9 a.m. weekdays, and 5 a.m. to 11 a.m. on weekends. It previously was available 12 hours a day. Whataburger says in a statement that the changes will allow it to supply all of its locations.

Read More @ EndOfTheAmericanDream.com

Help us spread the ANTIDOTE to corporate propaganda.

Please follow SGT Report on Twitter & help share the message.