by Pam Martens and Russ Martens, Wall Street on Parade: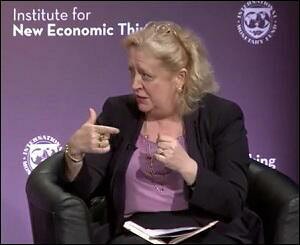 Stanley Fischer, the Vice Chairman of the Federal Reserve, was seated in the audience when author and consultant, Margaret Heffernan, dropped her bombshell at the "Finance & Society" conference on May 6 of this year. The conference panel was themed "Other People's Money: Governance, Integrity, & Ethics" and Heffernan fired the equivalent of a heat-seeking missile through one of Wall Street's biggest lies: that there is a legitimate basis for the obscene pay of its CEOs and traders.
Heffernan told the audience:
"There's another assumption in this which is performance-related pay is going to make people do a better job. This is not substantiated by the research. It just isn't…I can find proof that it will make people run a little bit harder for about 15 minutes, but I can't find the proof that over the long term, over time, it really delivers better work from more qualified people. But this has been a truism in all capitalist societies for a very long time. And it's about time we started questioning some of these shibboleths because I would say that not only does performance-related pay not deliver superior results, I would say it almost guarantees inferior results because it encourages, incentivizes really some very perverse decision making."
Read More @ WallStreetonParade.com
Help us spread the ANTIDOTE to corporate propaganda.

Please follow SGT Report on Twitter & help share the message.