by Dave Hodges, The Common Sense Show: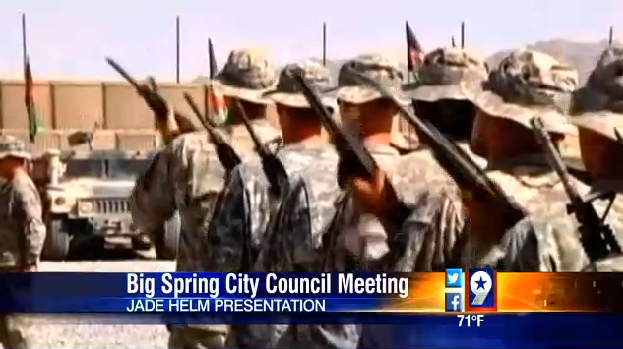 Finally, we are getting some much needed honesty with regard to the true nature of Jade Helm. The information is not overtly forthcoming, but in this clumsily made presentation to local Texas officials, one can pretty much ascertain the true nature of the drill, that is, if one can get around the obvious lies being told to the public by this Jade Helm official.
The Jade Helm official, Tom Meade, a Senior Non-commissioned officer from Army Special Forces (Retired) is now working as a private military contractor and he recently briefed local officials in Big Spring, Texas as to the purposes and the scope of the Jade Helm exercise.
Why Do Military Contractors Know More About the Drill Thank Senior Command Leaders in the Jade Helm Exercise?
Two of my military sources were agitated beyond words when they watched this briefing. To quote one of my sources, he stated "This goddamn retired Non-com knows more than the command officers running Jade Helm about what they are going to be doing. And now this SOB military contractor, who'd sell their own mother down the river, are running this operation instead of the General, Colonels and senior Non-Coms. Only in the Obama administration could this happen".
Collectively, we watched this 15 minute tape and my two sources used profanity more times than in the years that I have known them. I have never seen them this angry.
The Truth Will Out
Below is a transcript of key information revealed by private military contractor, Tom Meade. Please note that Meade repeatedly admits throughout the tape that Jade Helm is NOT training for Iraq and Afghanistan despite the repeated lies told by National Public Radio, KHOU TV in Houston, the Washington Post and Fox and Friends. The tape has been out for a few weeks, however, a word by word analysis has not been conducted.
Key Statements
1:30  We are asking Big Spring city council for a letter of invitation which would invite "forces" to train within your city limits in areas that have low population density.
Analysis: As the readers will soon see, this is about military personnel who are in hiding in rural areas and trying to live off of the land.
Read More @ TheCommonSenseShow.com
Help us spread the ANTIDOTE to corporate propaganda.

Please follow SGT Report on Twitter & help share the message.