by Pam Martens and Russ Martens, Wall Street on Parade: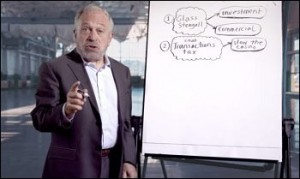 Robert Reich, former Labor Secretary in Bill Clinton's administration and currently Professor of Public Policy at the University of California at Berkeley, is an important voice for tackling income inequality in America by bringing back the Glass-Steagall Act, busting up the too-big-to-fail banks, and imposing a securities transaction tax.
In 2013, Reich released a documentary, "Inequality for All," that demonstrated that there is a finite equilibrium of income distribution at which the U.S. economy can grow and prosper. In 1928 and 2007, the year before each of the greatest financial crashes in our nation's history, income inequality peaked. When workers are stripped of an adequate share of the nation's income, they are not able to function as consumers, creating a vicious cycle of layoffs and slow economic growth – the situation the U.S. has been mired in since the Wall Street crash of 2008.
Unfortunately, Reich, an otherwise clear-eyed progressive has a deep blind spot. Her name is Hillary Clinton. In a column posted to his blog last month, Reich had this to say about Hillary:
Read More @ WallStreetonParade.com
Help us spread the ANTIDOTE to corporate propaganda.

Please follow SGT Report on Twitter & help share the message.