Nonexistent nest eggs and most Americans are bad at planning as to how long they will live.
from MyBudget360.com: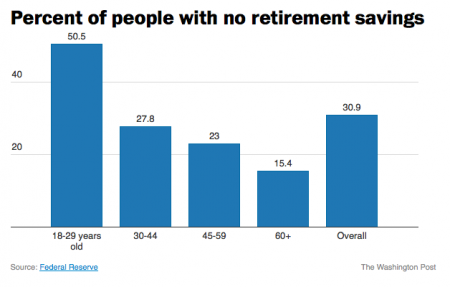 The idea of retirement is a modern one especially when it comes to saving and having a nest egg. In the past, retirement was only a luxury afforded to a small number of wealthy families. The rest of the population was destined to work until they died. That may seem harsh but that is historical fact. After World War II the idea of mass retirement started to take hold. Even Social Security was merely a safety net to keep you from starving or being homeless. Social Security was never designed as the main source of income for retirees but that is what it has become. Many older Americans simply did not prepare adequately. The taking away of pension plans was supposed to usher in the era of the self-directed 401k. One generation later the results are in and Americans are looking into the new retirement plan. The new retirement plan is working forever (in other words, until people can no longer physically hold down a job). This certainly doesn't coincide with the brochures we see of older Americans galloping across the beach with cocktails in their hands.
Help us spread the ANTIDOTE to corporate propaganda.

Please follow SGT Report on Twitter & help share the message.