by Terry Kinder, Bullion Vault: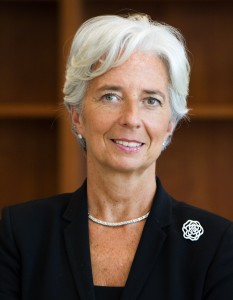 Lagarde's use of the number seven, magic seven and numbers related to seven caused many to question if there was a hidden numerological aspect relating to the replacement of the U.S. Dollar as the reserve currency. While any hidden meaning behind her speech is an interesting topic, a much simpler and elegant explanation has been proposed by JC Collins at philosophyofmetrics. In The Real Reason the Swiss Peg Ended Collins outlines not only another seven not discussed related to Lagarde's speech at The National Press Club, but manages to tie it back in not only to the U.S. Dollar's role as reserve currency, but also to the Chinese Yuan, the Special Drawing Rights (SDR) and gold.
The Lagarde Magic 7 Speech
To put both the magic number 7 buzz and Lagarde's speech in context it's best to watch it in its entirety. Some of the shorter clips of the speech may take things out of context or make assertions which may or may not be true.
Hidden Message?
If you watched the entire speech there is something odd about it. Even setting aside speculation about numerology, there is what appears to be a deliberate emphasis on the number seven. The odd pairing of seven with the word magic seemed manufactured to both create a signal and fuel speculation.
Help us spread the ANTIDOTE to corporate propaganda.

Please follow SGT Report on Twitter & help share the message.