from SRSrocco Report:
There's many good reasons to own silver. However, one of the most important is shown in the chart below. Investors don't realize the huge problems facing the U.S. and world going forward. While some more enlightened investors understand the upcoming calamity due to our highly leveraged debt-based fiat monetary system, most have no idea just how bad things will get in the future.
This goes way beyond protecting ones wealth with precious metals in a collapsing fiat monetary system. When the fiat monetary system disintegrates, so will the JUST IN TIME SUPPLY CHAIN SYSTEM in which we most certainly depend on for our goods and services.
However, I won't get into an in-depth article about those factors today, rather I am going to present the chart that will offer a realization why SILVER will be one of the best stores of wealth in the future.
While gold is the king monetary metal, silver will be the better performing physical store of wealth due to its GLOBAL PEAK PRODUCTION occurring at a more rapid rate than gold.
If we look at the chart below, 71% of global silver production comes from by-product mining of zinc-lead, copper and gold.  According to the 2014 World Silver Survey, zinc-lead account for 38% of by-product silver production, copper at 20%, and gold at 13%.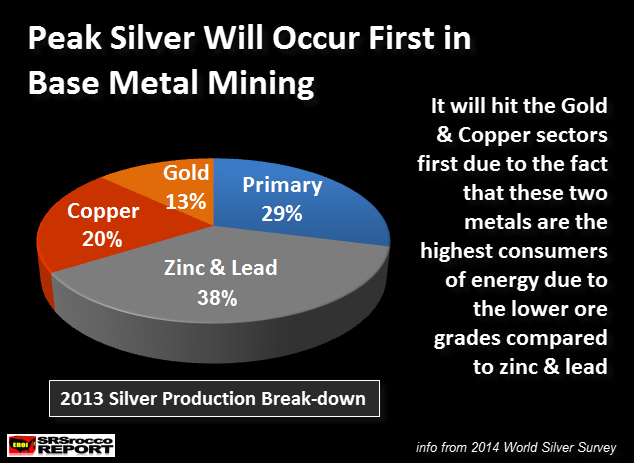 The world is about to come FACE TO FACE with the peak and decline of global oil production.  As global oil production continues to fall (never again to reach its peak), we will see a decline in World GDP.  As the world economic activity evaporates due to falling oil production, it will impact the base metals a great deal more than the primary precious metals.
Read More @ SRSroccoreport.com
Help us spread the ANTIDOTE to corporate propaganda.

Please follow SGT Report on Twitter & help share the message.