by Pam Martens, Wall Street on Parade: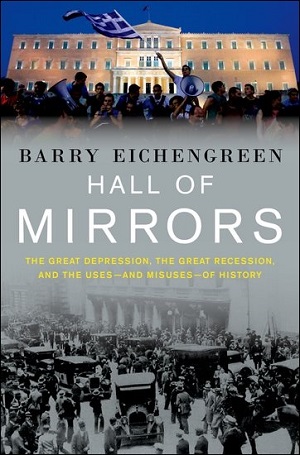 Barry Eichengreen, Professor of Economics and Political Science at the University of California, Berkeley, has written an essential tome contrasting the Great Depression of the 1930s with the Great Recession that began in late 2007 and deepened with the collapse of iconic Wall Street firms in 2008. Aptly titled Hall of Mirrors: The Great Depression, the Great Recession, and the Uses and Misuses of History, the book walks us through ongoing events in the U.S. and Europe during both periods.
Professor Eichengreen's book is well worth reading for the mining of nuggets such as this: "Between 1933 and 1937, real GDP in the United States grew at an annual rate of 8 percent, even though government did only passably well at these tasks. Between 2010 and 2013, by comparison, GDP growth averaged just 2 percent."
Read More @ WallStreetonParade.com
Help us spread the ANTIDOTE to corporate propaganda.

Please follow SGT Report on Twitter & help share the message.