US debt jumps $100 billion on last day of year. Total US debt markets at $58 trillion.
from MyBudget360.com: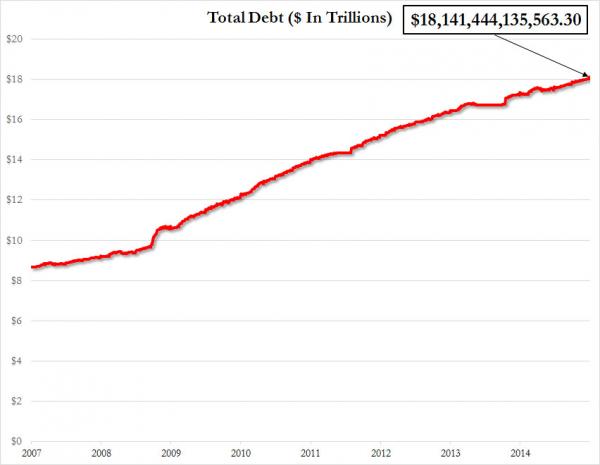 The New Year came and went and here we are fully into 2015. Most Americans didn't realize this but on the last day of the year US debt jumped by $100 billion in one day driven largely by Social Security adjustments. The current economy is dangerously addicted to debt. There was a time not too long ago where paying for college or even a car with cash was seen as a common occurrence. That is no longer the case and we are even seeing subprime auto debt since many Americans are cash strapped and a little low on the income side. Total credit market debt is nearing $58 trillion which seems a bit excessive given this is three times annual GDP. The current system is highly addicted to debt in any form. Those with the ability to access debt and leverage it can thrive in this system so long as debt is accessible. For many Americans with stagnant wages debt is available but for products that largely create negatives for wealth accumulation – cars, TVs, etc. Many on Wall Street can leverage cheap debt to purchase goods in the economy and crowd out regular workers.
Help us spread the ANTIDOTE to corporate propaganda.

Please follow SGT Report on Twitter & help share the message.