by Pam Martens and Russ Martens, Wall Street on Parade: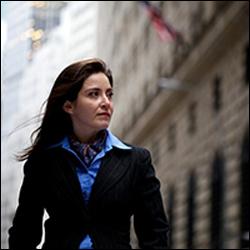 Wall Street's crime spree has been coming at the public for the past six years like a geyser spewing from a broken water main. It's been tough for the public to keep tract of the twists and turns, and equally so for Congress.
What has been lost in all the media frenzy over the tapes released by Carmen Segarra, an attorney and bank examiner at the New York Fed who was fired for wanting to hold Goldman Sachs accountable, according to her lawsuit, is that four other regulatory lawyers have stepped forward from 2006 to earlier this year to report that their Wall Street regulator has been captured. In the case of those four, the captured regulator is the Securities and Exchange Commission.
When you have five Wall Street insiders with law degrees telling you that Wall Street regulators are not upholding the laws they are mandated to enforce while the nation is still struggling to recover from an epic financial crash this corrupt cronyism produced just six years ago, it's time to allow the public to hear directly from all of these voices at one Senate witness table.
Read More @ WallStreetonParade.com
Help us spread the ANTIDOTE to corporate propaganda.

Please follow SGT Report on Twitter & help share the message.