from Before Its News: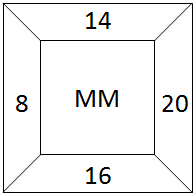 With little ceremony the stone, that was only recently inserted in the top corner of the slab with the English text on the Georgia Guide Stones, was removed again. Supposedly 'unauthorized', thrown down and cut to pieces. I believe however that there is a purpose to all of this as well as to the seemingly amateuristic video that showed the whole thing. Whoever filmed it made sure that we could see every side. One of the first things that catches the attention is the fact that there are other inscriptions apart from the 20 and 14 that were initially visible.
We also find the numbers 8 and 16 as well as the letter combinations MM and JAM. Before we could only read the year 2014, now if decoded, we can find an exact date.
The cube was tossed down like a dice and this brought me to the idea of understanding the code. A characteristic of a dice is that the dots on opposite sides always add up to seven; 5 + 2, 3 + 4 and 6 +1.
Help us spread the ANTIDOTE to corporate propaganda.

Please follow SGT Report on Twitter & help share the message.