by Dave Hodges, The Common Sense Show: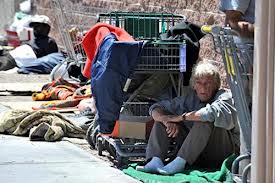 Recently, a friend asked me what would I recommend his daughter major in as she begins college this fall. I thought for a moment and answered "welfare". The father was quite taken back as I took out my IPAD and forwarded him some of my files which contains our recent economic statistics.
There are 35 states in this country in which it is better to accept welfare than work at an entry level job. Much like crack cocaine or heroin addicts, much of our nation is hopelessly addicted to living in the welfare state. This has real implications for the emotional and even spiritual health of our nation. The most distressing aspect of the present economic conditions we find ourselves mired in, is the fact that we are allowing our young people to have their dreams and their very sense of hope stolen away from them. Fear monger, naysayer, doomsday profit are terms ascribed to people who dare to criticize the existing economic system and speak about the real implications for our people. I dare the most liberal of you to read the following facts, engage in your own fact checking and then not to be able to conclude that the American dream, for most of our people, is dead and buried.
Read More @ Thecommonsenseshow.com
Help us spread the ANTIDOTE to corporate propaganda.

Please follow SGT Report on Twitter & help share the message.