Jim and I discuss what I consider to be some of the more provocative aspects of his new book, and how we can apply his insights to recent international developments, including the rapidly unfolding crises in Ukraine, Syria and Iraq, and accelerating moves by the BRICS to reduce their use of the dollar for trade and as reserves.
by John Butler, Financial Sense: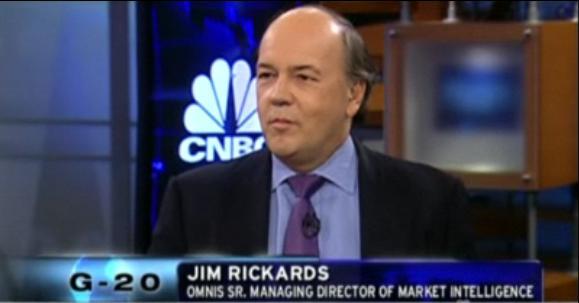 JB: Jim, you might recall the rolling crises of the 1970s, beginning with the 'Nixon Shock' in 1971, when the U.S. 'closed the gold window', to the related oil shocks and then the de facto global 'run on the dollar' at the end of the decade. At the time, as a student, did you have a sense as to what was happening, or any inclination to see this as the dollar's first real test as an unbacked global monetary reserve? Did these events have any influence on your decision to study international economics and to work in finance?
JR: I was a graduate student in international economics in 1972-74, and a law student from 1974-77, so my student years coincided exactly with the most tumultous years of the combined oil, inflation and dollar crises of the 1970s. Most observers know that Nixon closed the gold window in 1971, but that was not considered the end of the gold standard at the time. Nixon said he was 'temporarily' suspending convertibility, but the dollar was still officially valued at 1/35th of an ounce of gold. It was not until 1975 that the IMF officially demonitized gold although, at French insistence, gold could still be counted as part of a country's reserve position.
Read More @ FinancialSense.com
Help us spread the ANTIDOTE to corporate propaganda.

Please follow SGT Report on Twitter & help share the message.