Foreign born workers earn 79.9 percent compared to native born workers.
from MyBudget360.com: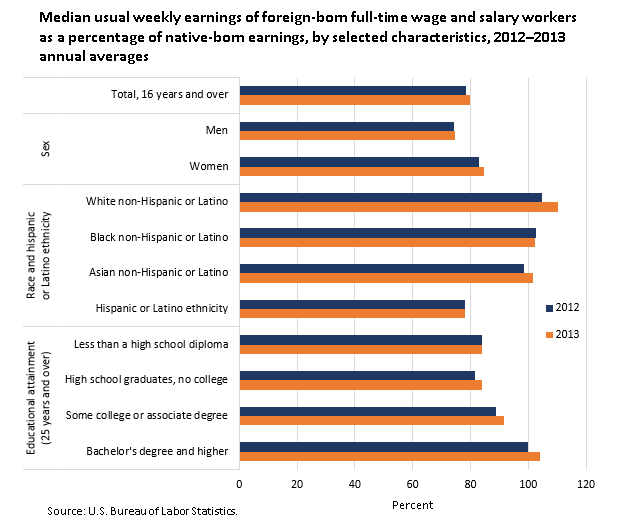 Over the last decade the U.S. has entered into a low wage economic trend impacting the overall economy. The result has been for many once middle class familiesto fall one or two rungs lower on the economic ladder. Many corporations have boosted their bottom line by using slack in the labor force to cut wages, slash benefits, and ultimately filter more profits away from workers. This is how you achieve a record level in the stock market yet wages have been stagnant for well over a generation adjusting for that pesky background "noise" of inflation. Another way that wages get depressed is by examining our foreign born workforce. There is data showing that foreign born workers earn 79.9 percent less than native born workers in the U.S. Even when we look at college education, we find that foreign born workers simply add more pressure on current workers giving companies an excuse to undercut wages and in many cases slash benefits. For example, this is very common in the tech sector where companies will bring in foreign born workers via H1-B visas and pay workers reduced wages and typically these workers received paired down benefit packages. This is simply another example of how we are entering a low wage workforce.
Share: on Twitter on Facebook on Google+
Help us spread the ANTIDOTE to corporate propaganda.

Please follow SGT Report on Twitter & help share the message.