by Bill Holter, Miles Franklin: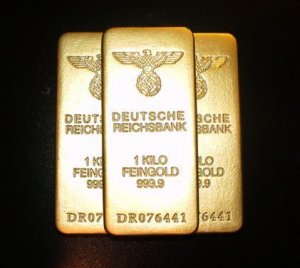 Well, well, well… the Germans don't want their gold back any longer. They kinda sorta did in Dec. 2012 and expected something like 42 tons per year for 7 years to get 300 of their 1,500 tons from the FRBNY. That didn't work out so well since they only received 5 tons last year …and it was reportedly not even the same gold that was originally deposited because the bars that were delivered were "recast"…but at least it was gold. We were told that they were recast because of the "impurities" that needed to be removed. Really? Is gold really like bread that molds over time and grows "impure?" The Bloomberg story of "How the Germans don't want their gold back" (my quote) is here.
OK, I'm sorry but this stinks to high heaven. No I did not graduate from an Ivy League school or a white shoe University like Oxford so I was never let in on the wink, wink, pinky swear secret handshake of the elites. Maybe it is considered "gentlemanly" not to turn in or squeal on one of your own even if it involves theft from your own countrymen. Think this one through for a moment, Germany asked for their gold back. Not all of it mind you, only 10% of their total and just 20% of what the Federal Reserve was supposedly holding…and only received a whopping 5 tons which equates to less than 2%.
Help us spread the ANTIDOTE to corporate propaganda.

Please follow SGT Report on Twitter & help share the message.