Inflating the consumer debt bubble with student loans and auto debt.
from MyBudget360.com: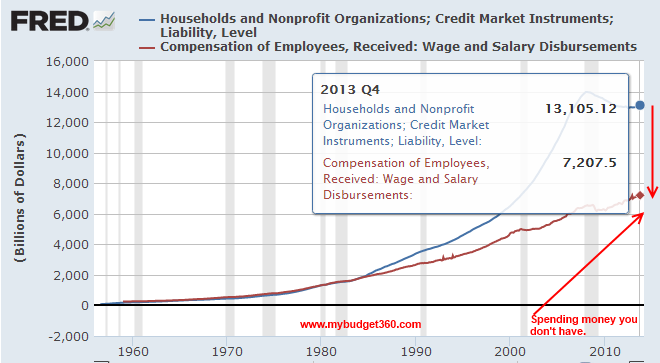 The latest consumer credit report surprised to the upside. What was the surprise? Americans are back to borrowing money they don't have. Are they borrowing for investing or possibly purchasing a modest home? No. The latest data shows that Americans are once again going deep into student debt and auto debt. This is actually worse than borrowing for a home you can't afford. A car will begin losing its value seconds after you drive it off the lot. Yet this is where Americans are pouring their money. So don't be surprised if you see a pizza delivery person driving in a nicer car than you are. Since the 1980s, households have been supplementing the decline in their standard of living by going into deep debt. The last crisis was more of a debt bubble but it was more visible through the housing market crashing and burning. Housing was only the vector where debt was attached to. Starting in the early 1980s, households started borrowing more money than their actual wages and salaries. At a time when pensions were going extinct in favor of the Wall Street casino, Americans simply filled the gap of weaker wages with debt. So it should come as no surprise that today, US household debt is nearly twice as high as annual wages and salaries.
Help us spread the ANTIDOTE to corporate propaganda.

Please follow SGT Report on Twitter & help share the message.