Average income data for individuals and households. Stagnant income growth for American families.
from MyBudget360.com: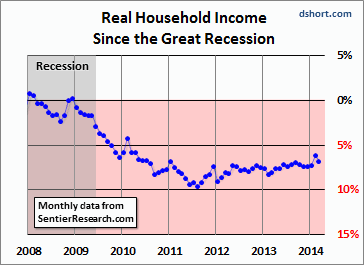 How much do Americans earn? This seems to be a relatively easy question to answer yet rarely do we get concrete facts in the media about American income figures. On some financial shows, you get people saying that being middle class is making $250,000 a year which is outrageous because this is twisting words and ignoring basic math. If we look at the true middle, the actual median, the typical U.S. household makes $51,000 per year. That is a far cry from $250,000 or even $100,000. Yet this kind of misinformation is what passes as financial news today. Americans for the most part are largely in the dark as to what other people earn. There is no conspiracy out in the market but there is a concerted effort to keep people in the financial dark because it keeps them from realizing how bad financially they actually have it. It also keeps people spending money they don't have and rarely asking questions about their financial health. Instead of confronting this reality families dive into massive debt to try to keep up the pretense that they are making progress forward. Budgeting and methods for taking care of your hard earned income are largely left off any educational curriculum yet will likely have a massive impact on your lifestyle. How much do Americans earn?
Help us spread the ANTIDOTE to corporate propaganda.

Please follow SGT Report on Twitter & help share the message.