Over the next decade 20 percent of the US population will be 65 years of age or older.
from MyBudget360.com: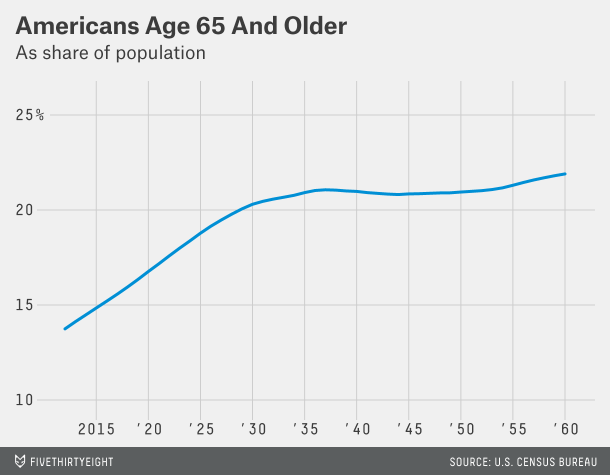 It is no secret that the United States like many developed nations is facing a demographic shift of epic proportions. Within the next decade 20 percent of the US population will be 65 years of age or older. This will place severe constraints on young workers, Social Security, and Medicare. Roughly 300,000 Americans per month hit the age of 65. As we have noted before many are unable to retire because they simply do not have enough money stashed away to enter into retirement. Many continue to work. The vast majority will mostly rely on Social Security benefits. Never in the history of the US have we had such a large number of Americans entering old age at one time. The baby boomer generation like a pig moving through a python is now entering the typical age of retirement. Yet many are in no financial position to retire comfortably. Many delay retirement and continue working. Some argue that this delay in retirement is plugging up some channels for younger workers to enter into the employment market. While this might be true, the unfortunate reality is that many Americans, young and old are simply in poor financial shape thanks to the financialization of our government and banking sector. This is brought on by our new low wage economy and lack of protection or concern for the middle class. We are confronting a demographic time bomb and things are already set into motion.
Help us spread the ANTIDOTE to corporate propaganda.

Please follow SGT Report on Twitter & help share the message.