The façade of the current stock market rally.
from MyBudget360.com: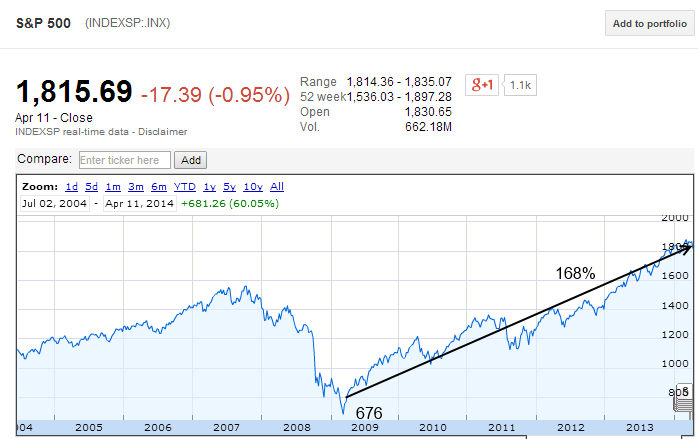 Do you remember what you had for lunch yesterday? Probably. What about two weeks ago? Probably not. Our mind isn't designed on remembering every single detail of every single event but has adapted itself into remembering important events. Our brain is designed to look forward and for the most part is resilient. This is why the stock market rally starting in 2009 has washed away the memories of the market crashing down for many people. This also gives us a financial blind spot. The stock market has had a nice run since 2009 rising 168 percent as measured by the S&P 500. Many of the reasons for the crash were never fully addressed including too big to fail, debt strapped consumers, and a national debt that is getting to a level that is simply unsupportable. This market rally has occurred under the guise of favorable policies to the banking system. The Fed has punished savers and has created massive incentives for large pools of money to flood into every corner of the economy including the real estate sector. This has crowded out many regular households. Yet the stock market is turning and a modest correction is coming over the horizon. I have seen no articles that give a clear reason as to why the stock market should be up 168 percent in five years despite the underlying weakness in the economy.
Help us spread the ANTIDOTE to corporate propaganda.

Please follow SGT Report on Twitter & help share the message.