from ZeroHedge: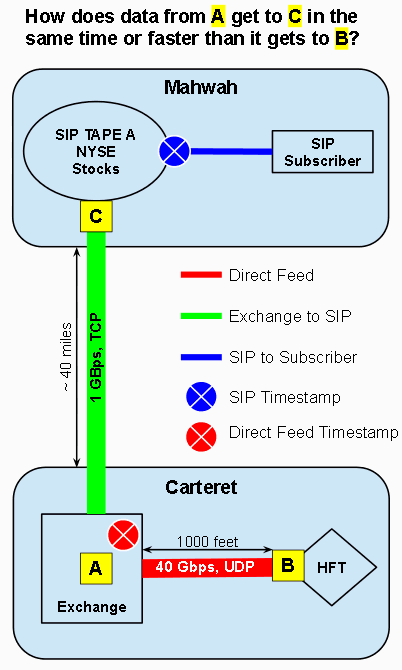 The topic of High-Frequency-Trading quickly dissolves into a smorgasbord of mnemonics and 'inside-baseball' technical terms – just complicated enough to lose everyone that matters or should care about its implications. Despite the fair-and-balanced defense from the mainstream media business channels (sponsored by the belief in the status quo fair markets that 'America the free' is known for), the fact is that HFT does front-run (perfectly legal under the umbrella protection of Reg NMS) order flow, but there may be one more wrinkle – one which would cement the Michael Lewis (accurate) allegation that the market is rigged.
Because if as Nanex shows below, there is in addition to everything else the element of timestamp fraud involved in the distribution of NMS "compliant" trading data for Direct Feed-to-SIP matching purposes, this means that not only is the market rigged, but its rigging goes from the very top all the way to the lowliest algo.
Help us spread the ANTIDOTE to corporate propaganda.

Please follow SGT Report on Twitter & help share the message.