by Yves Smith, Naked Capitalism: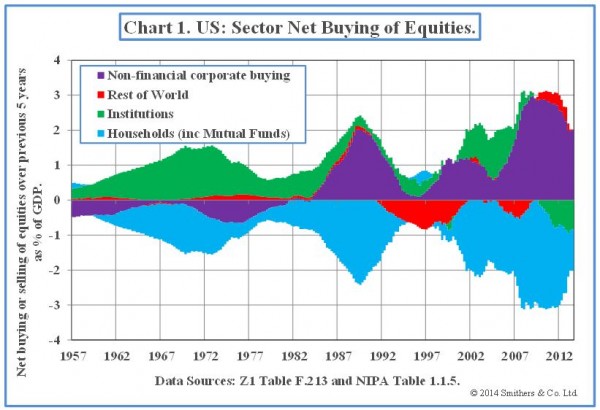 For the last 30 years, neoliberals have fixated on a simple program: "Get government out of the way," which meant reduce taxes and regulations. Business will invest more, which will produce a higher growth rate and greater prosperity for all. The belief was that unfettered capitalism could solve all ills.
Policymakers have dutifully followed this script. Corporations have gotten more and more tax breaks, with the result that the GAO found that their effective Federal tax rate in 2010 was 13% of worldwide income for companies with profits. Corporate income taxes represent a mere 11% of total Federal tax receipts, down from 30% in the mid-1950s. And we've also seen substantial deregulation in many sectors of the economy, particularly financial services, transportation, and telecommunications.
So have companies lived up to their half of the neoliberal bargain? Take a look at this chart from Andrew Smithers, which was published at the Financial Times. He prepared it to demonstrate how stock market prices have been driven almost entirely by corporate buying.
Read More @ NakedCapitalism.com
Help us spread the ANTIDOTE to corporate propaganda.

Please follow SGT Report on Twitter & help share the message.