from MyBudget360.com: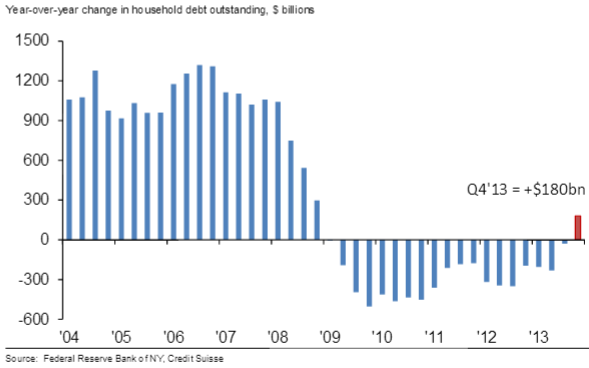 In a recent post we discussed how personal income growth is having tough go at the current economy. However, with incomes largely stuck in the quicksand of a mediocre economy for the working class, we see that the elixir of spending is back at the table again. Debt spending is making up for the lack of income growth. Unfortunately major consumer debt growth with no subsequent increase in income is a recipe for disaster in the long-run. Yet people live for the short-run like a sprinter so the party goes on. That is why the recent Fed report on household and consumer debt is important because it shows a first quarterly increase in debt in four years. While this may be good for a consumer based economy it merely masks the underlying issues with income growth. Also, the media is running with the "consumer is back" meme yet a large reason why debt increased like it did was because of incredible jumps in student loan debt. We also saw that auto loans increased dramatically and our friend the sub-prime loan is now creeping back into the industry.
Help us spread the ANTIDOTE to corporate propaganda.

Please follow SGT Report on Twitter & help share the message.