For every job that pays above the low-wage threshold of $15 an hour you have 7 job-seekers. 51.4 million low-wage jobs in U.S..
from MyBudget360.com: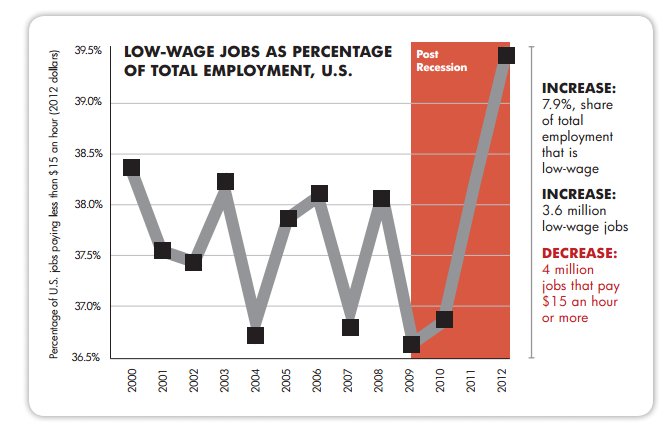 The Great Recession has only accelerated deeper structural changes to our economy when it comes to low-wage employment. While many good paying jobs were lost during the Great Recession many of the new jobs have come in the form of low-wage employment. Large organizations have used this slack in the market to reduce wages, cut benefits, and ultimately increase profits at the expense of the American worker. A Job Gap Study found that close to 40 percent of all U.S. employment pays $15 or less. The threshold changes in terms of inflationary pressures on housing, food, and other items but this is the largest share of our workforce that is now struggling to meet the daily costs of living. This trend is only increasing as more wealth is filtered into the hands of a very small part of our population. Banking profits hit another record at the same time we have a record number of families on food stamps. The U.S. is largely becoming a bifurcated economy where wealth and income inequality is only getting more dramatic. For every employment opportunity that opens where pay is $15 or more you have 7 job-seekers to this one position.
Help us spread the ANTIDOTE to corporate propaganda.

Please follow SGT Report on Twitter & help share the message.