Based on historical price to earnings ratios the stock market is overvalued by fifty percent. Only half of Americans own any stocks.
from MyBudget360.com: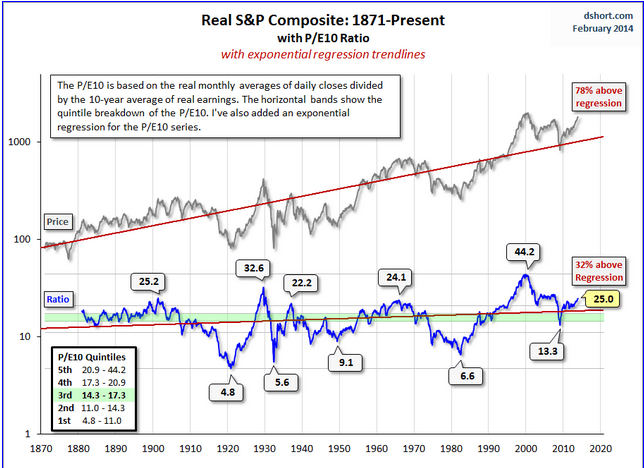 The stock market is largely seen as a barometer of economic health to the US economy. Turn on any business program and they report market prices as if reporting on it being a sunny or cloudy day. The financial markets are fully juiced on our current debt based system. Unfortunately it is taking more debt to get minimal returns and the reality is the juicing of the market is simply causing more wealth inequality in our nation. Financial institutions have first dibs on the easy access of debt provided by the Federal Reserve. This is why the housing market is now largely dominated by investors and banks cutting out regular home buyers. Young Americans are competing for positions in the low wage environment that is subsequently created. Yet the stock market is largely a sham for most Americans. Most do not have access to high frequency trading techniques that favor quick trades over buying and holding and corporate profits are up largely up on the slashing of wages and benefits. When we look at historical price-to-earnings ratios, we find that stocks are currently overvalued by at least 50 percent.
Help us spread the ANTIDOTE to corporate propaganda.

Please follow SGT Report on Twitter & help share the message.